The article requested is not found.
Browse through our Archives of articles.
Use our powerful article Search Tools.
Human Nucleome Reveals Amazing 4D World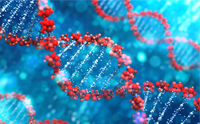 A new study investigating the three-dimensional human genome (the nucleome) in the context of time and gene expression revealed unimaginable complexity and precision. The authors of a new research paper, published in the Proceedings of the National Academy of Sciences, wrote at the very beginning of their report, "The human genome is a beautiful example of a dynamical system in three dimensions." The results of their research spectacularly vindicated this opening statement. More...
He Shall Judge the World
"Before the LORD: for he cometh, for he cometh to judge the earth: he shall judge the world with righteousness, and the people with his truth." (Psalm 96:13) More...
Places He Has Been
"And Judas also, which betrayed him, knew the place: for Jesus ofttimes resorted thither with his disciples." (John 18:2) More...
With the Rich in His Death
"And he made his grave with the wicked, and with the rich in his death; because he had done no violence, neither was any deceit in his mouth." (Isaiah 53:9) More...
More Articles