The article requested is not found.
Browse through our Archives of articles.
Use our powerful article Search Tools.
Zechariah's Visions: The Flying Roll
"Then I turned, and lifted up mine eyes, and looked, and behold a flying roll…the length thereof is twenty cubits, and the breadth thereof ten cubits." (Zechariah 5:1-2) More...
Zechariah's Visions: One Candlestick, Seven Lamps, Two Olive Trees
"I have looked, and behold a candlestick all of gold, with a bowl upon the top of it, and his seven lamps thereon, and seven pipes to the seven lamps, which are upon the top thereof: And two olive trees by it, one upon the right side of the bowl, and the other upon the left side thereof." (Zechariah 4:2-3) More...
Zechariah's Visions: The Eyes of the LORD
"For behold the stone that I have laid before Joshua; upon one stone shall be seven eyes....his seven lamps....those seven; they are the eyes of the LORD, which run to and fro through the whole earth." (Zechariah 3:9; 4:2, 10) More...
Unlocking the Origins of Snake Venom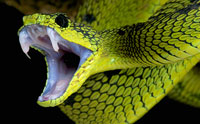 The origin of snake venom has been a long-time mystery to both creationists and evolutionists. Interestingly, new research confirms that the same genes that encode snake venom proteins are active in many other tissues. More...
More Articles