The article requested is not found.
Browse through our Archives of articles.
Use our powerful article Search Tools.
Prosecute Climate-Change Skeptics?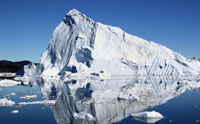 Twenty academics have written a letter to President Obama, urging him to use the RICO law—an instrument originally developed to wield against organized crime—to investigate organizations that are skeptical of the purported dangers of "climate change." More...
The Dove and the New World
"And the dove came in to him in the evening; and, lo, in her mouth was an olive leaf pluckt off: so Noah knew that the waters were abated from off the earth." (Genesis 8:11) More...
Line upon Line
"The word of the LORD was unto them precept upon precept, precept upon precept; line upon line, line upon line; here a little, and there a little; that they might go, and fall backward, and be broken, and snared, and taken." (Isaiah 28:13) More...
The Great Physician
"But when Jesus heard that, he said unto them, They that be whole need not a physician, but they that are sick." (Matthew 9:12)
It almost goes without saying that a person who is seriously ill would do anything to regain health. But the sad fact is, few people really pay attention to their health until they are threatened with its loss. More...
More Articles