The article requested is not found.
Browse through our Archives of articles.
Use our powerful article Search Tools.
Paul's Growth
"For I say, through the grace given unto me, to every man that is among you, not to think of himself more highly than he ought to think; but to think soberly, according as God hath dealt to every man the measure of faith." (Romans 12:3) More...
The Communion of the Saints
"That which we have seen and heard declare we unto you, that ye also may have fellowship with us: and truly our fellowship is with the Father, and with his Son Jesus Christ." (1 John 1:3) More...
2014 Most Notable News: Evolutionary Icons Toppled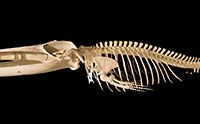 The big-picture story of evolution tells that, over millions of years, natural processes produced millions of species from one or a few primitive progenitors. Did this really happen, or did God create separate distinct "kinds" of creatures about 6,000 years ago like Genesis 1 clearly describes? More...
We, Being Many
"For as we have many members in one body, and all members have not the same office: So we, being many, are one body in Christ, and every one members one of another." (Romans 12:4-5) More...
More Articles