The article requested is not found.
Browse through our Archives of articles.
Use our powerful article Search Tools.
Jesus Is the Savior
"But is now made manifest by the appearing of our Saviour Jesus Christ, who hath abolished death, and hath brought life and immortality to light through the gospel." (2 Timothy 1:10) More...
Instruction Contrary to Knowledge
"Cease, my son, to hear the instruction that causeth to err from the words of knowledge." (Proverbs 19:27) More...
The God Who Saves
"The LORD is my rock, and my fortress, and my deliverer; my God, my strength, in whom I will trust; my buckler, and the horn of my salvation, and my high tower." (Psalm 18:2) More...
ICR Discovery Center: Impacting Hearts and Minds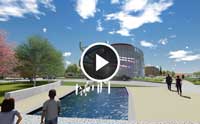 Science Writer Brian Thomas tells how creation evidence changed his beliefs about God and Scripture—and ultimately the course of his life! ICR's discovery center has the potential to reach so many more with this same life-changing message. More...
More Articles