The article requested is not found.
Browse through our Archives of articles.
Use our powerful article Search Tools.
Let Them Alone
"Ephraim is joined to idols: let him alone." (Hosea 4:17)
More...
Walk by Faith
"For we walk by faith, not by sight." (2 Corinthians 5:7)
More...
Evidence of Fountains of the Great Deep?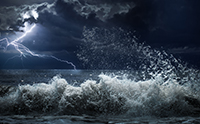 Two recent articles in Nature Geoscience may provide important validations of the global Flood. Did researchers find evidence of the "fountains of the great deep" that started the deluge?
More...
Teaching Stones
"Woe unto him that saith to the wood, Awake; to the dumb stone, Arise, it shall teach! Behold, it is laid over with gold and silver, and there is no breath at all in the midst of it." (Habakkuk 2:19)
More...
More Articles