The article requested is not found.
Browse through our Archives of articles.
Use our powerful article Search Tools.
Facts Bite into Bird Tooth Story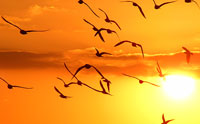 Fossils clearly show that some birds used to have small teeth, but most birds today do not have teeth. When and how did this change happen? A new study in the journal Science makes a few unfounded conclusions. More...
Signs of Christmas
"Moreover the LORD spoke again unto Ahaz, saying, Ask thee a sign of the LORD thy God; ask it either in the depth, or in the height above." (Isaiah 7:10-11) More...
Interpreting the Bible
"Knowing this first, that no prophecy of the scripture is of any private interpretation. For the prophecy came not in old time by the will of man: but holy men of God spake as they were moved by the Holy Ghost." (2 Peter 1:20-21) More...
Cosmetology and the Christian
"Whose adorning let it not be that outward adorning of plaiting the hair, and of wearing of gold, or of putting on of apparel; But let it be the hidden man of the heart, in that which is not corruptible, even the ornament of a meek and quiet spirit, which is in the sight of God of great price." (1 Peter 3:3-4) More...
More Articles