The article requested is not found.
Browse through our Archives of articles.
Use our powerful article Search Tools.
Faith
"And he believed in the LORD; and he counted it to him for righteousness." (Genesis 15:6) More...
King at the Flood
"The LORD sitteth upon the flood; yea, the LORD sitteth King for ever. The LORD will give strength unto his people; the LORD will bless his people with peace." (Psalm 29:10-11) More...
The Wolf and the Lamb Together
"The wolf also shall dwell with the lamb, and the leopard shall lie down with the kid; and the calf and the young lion and the fatling together; and a little child shall lead them." (Isaiah 11:6) More...
Giant Galaxy Ring Shouldn't Exist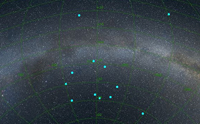 A team of astronomers from Hungary and the United States, led by Professor Lajos Balázs of Konkoly Observatory in Budapest, has announced the discovery of an enormous ring of galaxies. According to the Big Bang model, this ring should not exist. More...
More Articles