The article requested is not found.
Browse through our Archives of articles.
Use our powerful article Search Tools.
Great Swelling Words
"These are murmurers, complainers, walking after their own lusts; and their mouth speaketh great swelling words, having men's persons in admiration because of advantage." (Jude 1:16)
More...
Anthropology, Archaeology, and Asteroids [Podcast]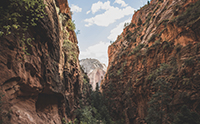 Fascinating creatures and terrifying cataclysms riddle the timeline of Earth history. What can we learn about the pre-Flood world, the origin of humanity, and other scientific mysteries? ICR geologist and Research Associate Dr. Tim Clarey examines groundbreaking evidence that confirms the Genesis narrative.
More...
The Offended Brother
"It is good neither to eat flesh, nor to drink wine, nor any thing whereby thy brother stumbleth, or is offended, or is made weak." (Romans 14:21)
More...
The Cleansing Blood
"But if we walk in the light, as he is in the light, we have fellowship one with another, and the blood of Jesus Christ his Son cleanseth us from all sin." (1 John 1:7)
More...
More Articles