The article requested is not found.
Browse through our Archives of articles.
Use our powerful article Search Tools.
Qualified to Inherit
"Strengthened with all might, according to his glorious power, unto all patience and longsuffering with joyfulness; Giving thanks unto the Father, which hath made us meet to be partakers of the inheritance of the saints in light." (Colossians 1:11-12) More...
Fruitful in Every Good Work
"That ye might walk worthy of the Lord unto all pleasing, being fruitful in every good work, and increasing in the knowledge of God." (Colossians 1:10)
There are many admonitions in Scripture insisting that the child of God maintain a lifestyle that reflects the holy character of the Savior. More...
Cancer Medicine in Wasp Toxin?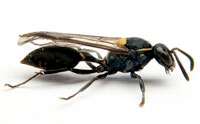 A short protein, or peptide, in wasp toxin may one day treat human cancer in a whole new way. Researchers isolated a particular peptide from the venom of Brazilian Polybia paulista wasps and studied how it seeks and destroys cancer cells while leaving normal cells unharmed. They uncovered intriguing details that enable this average-looking peptide to become a cell-destroying weapon. More...
Filled with the Knowledge of His Will
"For this cause we also, since the day we heard it, do not cease to pray for you, and to desire that ye might be filled with the knowledge of his will in all wisdom and spiritual understanding." (Colossians 1:9) More...
More Articles