The article requested is not found.
Browse through our Archives of articles.
Use our powerful article Search Tools.
Lazarus and the Rich Man
"And it came to pass, that the beggar died, and was carried by the angels into Abraham's bosom: the rich man also died, and was buried." (Luke 16:22)
More...
God's Grace
"The grace of our Lord Jesus Christ be with you all. Amen." (Philippians 4:23)
The basic form of today's verse appears 13 times in the New Testament. In Scripture, repetition is not for lack of something to say but the Holy Spirit's intentional emphasis on something.
More...
Dinosaur Fossils Found in Marine Rocks...Again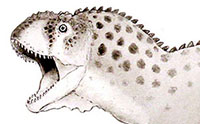 Another spectacular dinosaur fossil discovery has baffled paleontologists who deny the historical accuracy of the book of Genesis. New Scientist recently reported the identification of a T. rex-like dinosaur from Upper Cretaceous system rocks in North Africa. What confounded the scientists were the phosphate-rich rocks in which the bones were found—rocks indicative of deposition in an open ocean.
More...
God's Complete Supply
"But my God shall supply all your need according to his riches in glory by Christ Jesus." (Philippians 4:19)
The key to this promise in today's verse is the need that must be met by the riches of the great King as we render our service in His Kingdom. But how vast those needs can be and how different the supply is!
More...
More Articles