The article requested is not found.
Browse through our Archives of articles.
Use our powerful article Search Tools.
Man and His Labor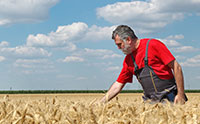 Whatever our job may be, it can be regarded as serving Christ and helping to fulfill His primeval-dominion commandment, and even helping lead others to know Him. More...
Our Sins
"All we like sheep have gone astray; we have turned every one to his own way; and the LORD hath laid on him the iniquity of us all." (Isaiah 53:6) More...
Blessed by the Word
"Blessed are the undefiled in the way, who walk in the law of the LORD." (Psalm 119:1) More...
"Watch Out for Gold, Glory, and Girls!"
That was the constant warning from an old evangelist to his "preacher boys" when I was preparing for the ministry nearly 50 years ago. Obviously, that warning is just as relevant today. List of previous Articles