The article requested is not found.
Browse through our Archives of articles.
Use our powerful article Search Tools.
The Pleasure of the Lord
"Yet it pleased the LORD to bruise him; he hath put him to grief: when thou shalt make his soul an offering for sin, he shall see his seed, he shall prolong his days, and the pleasure of the LORD shall prosper in his hand." (Isaiah 53:10)
More...
Heaven's Commonwealth
"For our conversation is in heaven; from whence also we look for the Saviour, the Lord Jesus Christ." (Philippians 3:20)
More...
Musical Bird Maestros Befuddle Evolution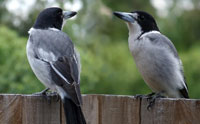 A recent paper shows that the skill of some songbirds to extemporaneously innovate musical repertoire equals that of human musicians. Since none of the apes have this complex human-like capability, the discovery poses a big problem for the evolutionary model of human origins.
More...
To the Animals
"Go to the ant, thou sluggard; consider her ways, and be wise: Which having no guide, overseer, or ruler, Provideth her meat in the summer, and gathereth her food in the harvest." (Proverbs 6:6-8)
More...
More Articles