The article requested is not found.
Browse through our Archives of articles.
Use our powerful article Search Tools.
Babes in Christ
"Brethren, be not children in understanding: howbeit in malice be ye children, but in understanding be men." (1 Corinthians 14:20) More...
Holy Goodness
"[Barnabus] was a good man, and full of the Holy Ghost and of faith." (Acts 11:24) More...
Building-Vine-Body
"For ye are dead, and your life is hid with Christ in God." (Colossians 3:3) More...
Heads, Evolution Wins--Tails, Creation Loses?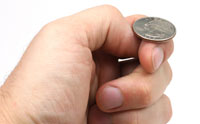 Wouldn't two billion years of mutations and changing environments inevitably produce some effects in an organism? After all, in only a quarter of that supposed time, evolutionary processes are said to have transformed fish into people. Mutations supposedly occur nonstop, but the authors of a new paper now say that creature stasis proves evolution. More...
More Articles