The article requested is not found.
Browse through our Archives of articles.
Use our powerful article Search Tools.
Zechariah's Visions: The Ephah and the Women
"Then the angel that talked with me…said, This is an ephah that goeth forth. He said moreover, This is their resemblance through all the earth. And, behold, there was lifted up a talent of lead: and this is a woman that sitteth in the midst of the ephah." (Zechariah 5:5-7) More...
Amazing Ant Beetle Same Today as Yesterday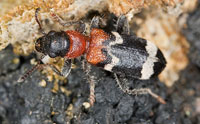 If ancient history according to Scripture is true, then what should we expect to find in animal fossils? Surely excellent body designs would top the list, closely followed by a lack of "transitional forms." A newly discovered specialized beetle inside Indian amber provides another peek into the past and an opportunity to test these Bible-based expectations. More...
Zechariah's Visions: The Flying Roll
"Then I turned, and lifted up mine eyes, and looked, and behold a flying roll…the length thereof is twenty cubits, and the breadth thereof ten cubits." (Zechariah 5:1-2) More...
Zechariah's Visions: One Candlestick, Seven Lamps, Two Olive Trees
"I have looked, and behold a candlestick all of gold, with a bowl upon the top of it, and his seven lamps thereon, and seven pipes to the seven lamps, which are upon the top thereof: And two olive trees by it, one upon the right side of the bowl, and the other upon the left side thereof." (Zechariah 4:2-3) More...
More Articles