The article requested is not found.
Browse through our Archives of articles.
Use our powerful article Search Tools.
The God Who Saves
"The LORD is my rock, and my fortress, and my deliverer; my God, my strength, in whom I will trust; my buckler, and the horn of my salvation, and my high tower." (Psalm 18:2) More...
ICR Discovery Center: Impacting Hearts and Minds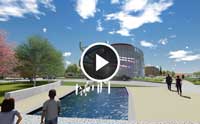 Science Writer Brian Thomas tells how creation evidence changed his beliefs about God and Scripture—and ultimately the course of his life! ICR's discovery center has the potential to reach so many more with this same life-changing message. More...
How Can Things Invisible Be Seen?
"For the invisible things of him from the creation of the world are clearly seen, being understood by the things that are made, even his eternal power and Godhead; so that they are without excuse." (Romans 1:20) More...
Fear of Fire
"And others save with fear; pulling them out of the fire; hating even the garment spotted by the flesh." (Jude 1:23)
This exhortation refers both to attempting to "save" unbelievers by warning them of hell and to warning believers against the influence of apostates. More...
More Articles