The article requested is not found.
Browse through our Archives of articles.
Use our powerful article Search Tools.
Our Advocate in Heaven
"Also now, behold, my witness is in heaven, and my record is on high." (Job 16:19)
More...
Jesus Christ or Christ Jesus
"For our conversation is in heaven; from whence also we look for the Saviour, the Lord Jesus Christ." (Philippians 3:20)
More...
Proteins in '2-Billion-Year-Old' Rock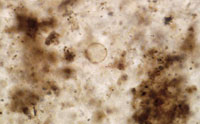 Rock researchers highly regard Ontario's Gunflint chert for its fresh-looking microfossils. Long ago, the chert's microcrystalline quartz grains embedded microscopic single-celled creatures, including algae. A research team used new techniques to analyze the chemicals inside these fossil cells. They found protein remnants where they should no longer exist—given these rocks' vast age assignment.
More...
Our Natural and Spiritual Bodies
"It is sown in dishonour; it is raised in glory: it is sown in weakness; it is raised in power: It is sown a natural body; it is raised a spiritual body. There is a natural body, and there is a spiritual body." (1 Corinthians 15:43-44)
More...
More Articles