The article requested is not found.
Browse through our Archives of articles.
Use our powerful article Search Tools.
And Forty Nights
"And the rain was upon the earth forty days and forty nights." (Genesis 7:12)
More...
Honor Your Mother

Children who are taught the Bible from the very beginning have a marvelous advantage. Studies show overwhelmingly that most born-again Christian adults accepted Christ during childhood. While fathers wield the greatest influence in setting the spiritual emphasis within the family, it's often the mother who actually teaches the Scriptures to her children.
More...
Sloppy Religion and Sloppy Science

In 1633, Galileo Galilei faced hostile inquisitors who opposed his astronomical discoveries. Galileo claimed that Earth moves around the sun while the sun stays stationary, which was opposite to what Galileo's church taught.More...
Do Dinosaurs Disprove the Bible?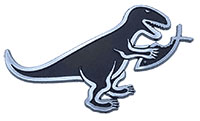 My family and I saw an interesting car emblem while on a road trip. It showed a T. rex-like dinosaur taking a bite out of a Christian fish. This led to a healthy in-car discussion.More...
More Articles