The article requested is not found.
Browse through our Archives of articles.
Use our powerful article Search Tools.
Jesus and the Charge of Blasphemy
"Ye have heard the blasphemy: what think ye? And they all condemned him to be guilty of death." (Mark 14:64)
Today many liberal theologians profess to be Christians but argue that Jesus was merely a great man and that He never claimed deity for Himself. But the Sanhedrin and its high priest had no such doubts for they heard it from His own lips.
More...
Seven Earth-size Planets Discovered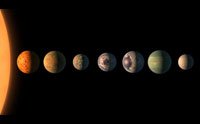 Secular scientists are excited about the recent detection of seven Earth-size planets in the constellation Aquarius, a nearby solar system. According to the report, three of the planets orbit a parent star, called TRAPPIST-1, at a distance that would allow water to exist on their surface. Is their excitement merited?
More...
Witnesses of the Trinity
"Also I heard the voice of the Lord, saying, Whom shall I send, and who will go for us? Then said I, here am I; send me." (Isaiah 6:8)
More...
More Evidence of a Wet Sahara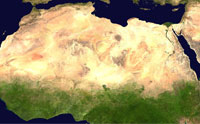 Scientists from the University of Arizona recently announced that what is now the Sahara desert was once wet and green and extended as far north as the Mediterranean Sea.
More...
More Articles