The article requested is not found.
Browse through our Archives of articles.
Use our powerful article Search Tools.
Gorillas, Endangerment, and Evolutionary Morality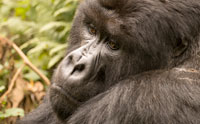 The International Union for Conservation of Nature (IUCN) revealed their latest Red List of Threatened Species at their World Conservation Congress in Hawaii on September 4, 2016. There, thousands of scientists and celebrities discussed recently extinct plants and others nearing extinction, but the primate declines grabbed the headlines. Two of the three great-ape kinds are rapidly shrinking. Why should these losses sadden those concerned?
More...
The Glory of the Lord
"And it came to pass, when the priests were come out of the holy place, that the cloud filled the house of the LORD, So that the priests could not stand to minister because of the cloud: for the glory of the LORD had filled the house of the LORD." (1 Kings 8:10-11)
More...
My Lord and My God
"And Thomas answered and said unto Him, My Lord and my God." (John 20:28)
More...
For Thy Name's Sake
"For thou art my rock and my fortress; therefore for thy name's sake lead me, and guide me." (Psalm 31:3)
More...
More Articles