The article requested is not found.
Browse through our Archives of articles.
Use our powerful article Search Tools.
Mosasaur Babies: Aren't They Cute?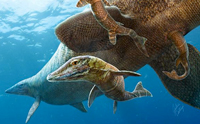 We often hear claims that birds are similar to dinosaurs, but birds and mosasaurs? Mosasaurs were swimming reptiles. How can they be confused with birds? A recent study published in Palaeontology by Yale University's Daniel Field and his colleagues clears up some of this confusion and in the end, illustrates a mosasaur lifecycle of marvelous design. More...
Pastors and Teachers
"And he gave some, apostles; and some, prophets; and some, evangelists; and some, pastors and teachers." (Ephesians 4:11) More...
Fear Not, Little Flock
"But rather seek ye the kingdom of God; and all these things shall be added unto you." (Luke 12:31) More...
Headstone of the Corner
"The stone which the builders refused is become the head stone of the corner." (Psalm 118:22) More...
More Articles