The article requested is not found.
Browse through our Archives of articles.
Use our powerful article Search Tools.
The Good Pastor
"I am the good shepherd, and know my sheep, and am known of mine." (John 10:14) More...
Nine Forty-Day Periods
"To whom also he showed himself alive after his passion by many infallible proofs, being seen of them forty days, and speaking of the things pertaining to the kingdom of God." (Acts 1:3) More...
Remembering Mount St. Helens 35 Years Later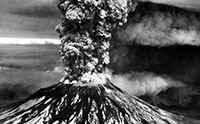 A landslide on the northern side of Mount St. Helens in Washington state on May 18, 1980 uncorked a violent volcanic eruption of ash, vapor, molten material and pulverized rock. The effects of this one of the most scrupulously documented volcanos in history have reshaped the way geologists think about certain landforms. More...
The Pillar and Ground of the Truth
"These things write I unto thee, hoping to come into thee shortly: But if I tarry long, that thou mayest know how thou oughtest to behave thyself in the house of God, which is the church of the living God, the pillar and ground of the truth." (1 Timothy 3:14-15) More...
More Articles