The article requested is not found.
Browse through our Archives of articles.
Use our powerful article Search Tools.
God's Complete Supply
"But my God shall supply all your need according to his riches in glory by Christ Jesus." (Philippians 4:19)
The key to this promise in today's verse is the need that must be met by the riches of the great King as we render our service in His Kingdom. But how vast those needs can be and how different the supply is!
More...
Sweet-Smelling Sacrifice
"I am full, having received of Epaphroditus the things which were sent from you, an odour of a sweet smell, a sacrifice acceptable, wellpleasing to God." (Philippians 4:18)
More...
Communicate Well
"Notwithstanding ye have well done, that ye did communicate with my affliction." (Philippians 4:14)
More...
Roundworm DNA System Plans Ahead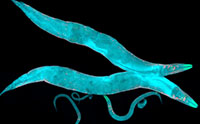 Intriguing studies demonstrate that many different animals have the ability to transmit information about their environment to their offspring, sometimes using a process called epigenetics. Most often, the genetic memory of a parent or grandparent's environmental experience traverses no farther than a half-dozen generations. Recently, researchers accidentally discovered the farthest-reaching epigenetic signal ever known.
More...
More Articles