The article requested is not found.
Browse through our Archives of articles.
Use our powerful article Search Tools.
To the Animals
"Go to the ant, thou sluggard; consider her ways, and be wise: Which having no guide, overseer, or ruler, Provideth her meat in the summer, and gathereth her food in the harvest." (Proverbs 6:6-8)
More...
The Fatherhood of God
"For in him we live, and move, and have our being; as certain also of your own poets have said, For we are also his offspring." (Acts 17:28)
More...
God the Owner
"The earth is the LORD's, and the fulness thereof; the world, and they that dwell therein." (Psalm 24:1)
More...
Magic Words Can't Explain Strange Fossil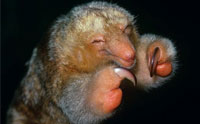 Once upon a time, only a single Italian fossil—a crushed specimen that paleontologists had to reconstruct—represented the extinct reptile Drepanosaurus. Now, a team of American scientists described a new Drepanosaurus specimen from New Mexico. Instead of fingers, it had a massive claw on each hand, and its curling tail was claw-tipped. These features have evolutionists scratching their heads over where it came from and why it looks more like a particular living mammal than a reptile.
More...
More Articles