The article requested is not found.
Browse through our Archives of articles.
Use our powerful article Search Tools.
Blind Hearts
"Having the understanding darkened, being alienated from the life of God through the ignorance that is in them, because of the blindness of their heart." (Ephesians 4:18)
More...
RNA Editing in Corals Stupefies Evolution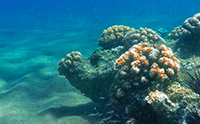 Corals are thought to be one of the earliest forms of multicellular life to have evolved. Today, corals are foundational to ocean life, but are they primitive? A new study shows that a highly complex system of genetic recoding called RNA editing is active in today's corals. Does this fit the evolution model or the creation model?
More...
Never Like This
"And when the devil was cast out, the dumb spake: and the multitudes marvelled, saying, It was never so seen in Israel." (Matthew 9:33)
More...
That Which Endures Forever
"But the LORD shall endure for ever: he hath prepared his throne for judgment." (Psalm 9:7)
More...
More Articles