The article requested is not found.
Browse through our Archives of articles.
Use our powerful article Search Tools.
Manganese Nodule Discovery Points to Genesis Flood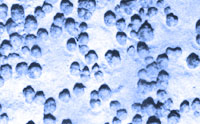 Scientists recently discovered a large batch of manganese nodules on the floor of the Atlantic Ocean. These metallic pellets provide strong evidence that most seafloor sediments were deposited rapidly, not slowly and gradually over millions of years. Are these nodules evidence of the Genesis Flood? More...
Another Jesus
"For if he that cometh preacheth another Jesus, whom we have not preached, or if ye receive another spirit, which ye have not received, or another gospel, which ye have not accepted, ye might well bear with him." (2 Corinthians 11:4) More...
God My Personal Savior
"And my spirit hath rejoiced in God my Saviour." (Luke 1:47) More...
Let Him Hear
"He that hath an ear, let him hear what the Spirit saith unto the churches." (Revelation 3:22) More...
More Articles