The article requested is not found.
Browse through our Archives of articles.
Use our powerful article Search Tools.
The Pilgrims
"Peter, an apostle of Jesus Christ, to the strangers scattered throughout Pontus, Galatia, Cappadocia, Asia, and Bithynia." (1 Peter 1:1) More...
I Need No Other Argument
"Who hath delivered us from the power of darkness, and hath translated us into the kingdom of his dear Son: In whom we have redemption through his blood, even the forgiveness of sins." (Colossians 1:13-14) More...
Leaning on the Word
"And this is the record, that God hath given to us eternal life, and this life is in his Son. . . . These things have I written unto you that believe on the name of the Son of God; that ye may know that ye have eternal life, and that ye may believe on the name of the Son of God." (1 John 5:11, 13) More...
Pluto's Craterless Plains Look Young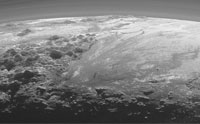 Earlier this year, New Horizons flew past dwarf planet Pluto and its sister Charon, rapidly capturing data. That information continues to trickle in, revealing a surprisingly smooth heart-shaped plain called "Tombaugh Regio." The countless craters expected from billions of years' worth of impacts are nowhere to be found. More...
More Articles