The article requested is not found.
Browse through our Archives of articles.
Use our powerful article Search Tools.
Junk DNA…Trashed Again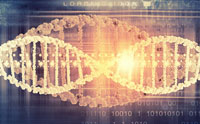 Repetitious "words" in DNA represent more than half of the human genome's three billion nucleotides. Because human reasoning essentially views the repetition of words in spoken languages as errors, these DNA sequences were first written off as meaningless junk. Now it appears nothing could be further from the truth since these repetitive words are linked with pervasive biochemical function. More...
Jesus Is the Savior
"But is now made manifest by the appearing of our Saviour Jesus Christ, who hath abolished death, and hath brought life and immortality to light through the gospel." (2 Timothy 1:10) More...
Instruction Contrary to Knowledge
"Cease, my son, to hear the instruction that causeth to err from the words of knowledge." (Proverbs 19:27) More...
The God Who Saves
"The LORD is my rock, and my fortress, and my deliverer; my God, my strength, in whom I will trust; my buckler, and the horn of my salvation, and my high tower." (Psalm 18:2) More...
More Articles