The article requested is not found.
Browse through our Archives of articles.
Use our powerful article Search Tools.
Him That Cometh to Me
"All that the Father giveth me shall come to me; and him that cometh to me I will in no wise cast out." (John 6:37)
In this verse and the verses to follow, we find Christ using a marvelous teaching technique. Several times He makes a general, generic statement but quickly advances from the general and impersonal to the particular and personal.
More...
Humility
"He riseth from supper, and laid aside his garments; and took a towel, and girded himself. . . . and began to wash the disciples' feet, and to wipe them with the towel wherewith he was girded." (John 13:4-5)
More...
Earth Remains the Only Goldilocks Planet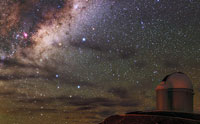 Astronomer Stephen Kane hunts for signs of life in outer space. His team researched a distant star called Wolf 1061. Exoplanets (planets outside our solar system) orbit Wolf 1061, and one of them held the promise of liquid water, a prerequisite for life.
More...
Praise of the Generations
"That the generation to come might know them, even the children which should be born; who should arise and declare them to their children." (Psalm 78:6)
More...
More Articles