The article requested is not found.
Browse through our Archives of articles.
Use our powerful article Search Tools.
Big Bang Blowup at Scientific American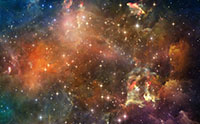 The February 2017 issue of Scientific American contains an article by three prominent theoretical physicists from Princeton and Harvard who strongly question the validity of cosmic inflation, an important part of the modern Big Bang theory.
More...
Call to Remembrance
"But call to remembrance the former days, in which, after ye were illuminated, ye endured a great fight of afflictions." (Hebrews 10:32)
More...
The Builder of the House
"He who hath builded the house hath more honour than the house. For every house is builded by some man; but he that built all things is God." (Hebrews 3:3-4)
More...
Lazarus and the Rich Man
"And it came to pass, that the beggar died, and was carried by the angels into Abraham's bosom: the rich man also died, and was buried." (Luke 16:22)
More...
More Articles