The article requested is not found.
Browse through our Archives of articles.
Use our powerful article Search Tools.
The Truth
"And they shall turn away their ears from the truth, and shall be turned unto fables." (2 Timothy 4:4) More...
Carbon-14 Found in Dinosaur Fossils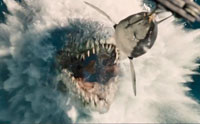 New science directly challenges the millions-of-years dogma scattered throughout the blockbuster movie Jurassic World. The spring 2015 edition of the Creation Research Society Quarterly (CRSQ) is a special issue that focuses on the investigation of dinosaur proteins inside fossil bones. The last article in the issue presents never-before-seen carbon dates for 14 different fossils, including dinosaurs. Because radiocarbon decays relatively quickly, fossils that are even 100,000 years old should have virtually no radiocarbon left in them. But they do. More...
O My Soul
"Why art thou cast down, O my soul? and why art thou disquieted in me? hope thou in God: for I shall yet praise him for the help of his countenance." (Psalm 42:5) More...
Meditation
"Make me to understand the way of thy precepts: so shall I talk of thy wondrous works." (Psalm 119:27) More...
More Articles