The article requested is not found.
Browse through our Archives of articles.
Use our powerful article Search Tools.
Unanswered Prayer
"For the eyes of the Lord are over the righteous, and his ears are open unto their prayers: but the face of the Lord is against them that do evil." (1 Peter 3:12)
More...
Dinosaur Extinction via Asteroid?
Have you heard about the Chicxulub impact site in Yucatan, Mexico? Some scientists claim this site as the "smoking gun" of the asteroid that wiped out the dinosaurs. Is this a smoking gun or just smoke? What results can we glean from empirical research?
Other episodes in this series:
Discovering the Pre-Flood World
Revealing the True Age of the Hawaiian Islands
For more radio programs, click here.
More...
I Charge You
"Now the end of the commandment is charity out of a pure heart, and of a good conscience, and of faith unfeigned." (1 Timothy 1:5)
More...
The Created Sun and Moon [Podcast]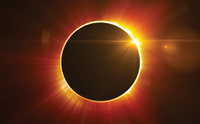 What does Scripture say about the sun and the moon? How do these two "great lights" rule the heavens? In this special episode of Science, Scripture, & Salvation, Dr. Jim Johnson describes the sun and moon's impact on our planet, as well as their effects on plants, animals, and humans. He also sheds light on a historical controversy involving Galileo.
More...
More Articles