The article requested is not found.
Browse through our Archives of articles.
Use our powerful article Search Tools.
The Christian's Cleansing
"If we confess our sins, he is faithful and just to forgive us our sins, and to cleanse us from all unrighteousness." (1 John 1:9)
This familiar promise is often quoted as a sort of pat formula for dealing with sin in a believer's life. Simply identify and acknowledge the sin, and all is forgiven. More...
The Two Ways
"For the LORD knoweth the way of the righteous: but the way of the ungodly shall perish." (Psalm 1:6) More...
Bronze-Age DNA Confirms Babel Dispersion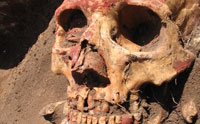 Scientists used new techniques to sequence 101 ancient human genomes believed to be from Bronze-Age populations in Europe. Their findings indicate a massive migratory influx of genetic diversity just a few thousand years ago. This data also coincides with known language diversification patterns, providing strong evidence for the dispersion of people groups at the Tower of Babel. More...
Defending the Gospel
"But the other of love, knowing that I am set for the defence of the gospel." (Philippians 1:17)
Many Christians today decry the use of apologetics or evidences in Christian witnessing, feeling it is somehow dishonoring to the Lord or to the Scriptures to try to defend them. More...
More Articles