The article requested is not found.
Browse through our Archives of articles.
Use our powerful article Search Tools.
According to the Word
"Let my cry come near before thee, O LORD: give me understanding according to thy word." (Psalm 119:169)
The closing 22nd stanza of Psalm 119 repeats many of the themes of the previous 21 and summarizes this epic to the majesty of the Word of God. More...
Selah
"Many there be which say of my soul, There is no help for him in God. Selah." (Psalm 3:2) More...
Living Fossils Found off Australia's Coast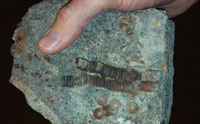 The Deep Down Under project explores "relict faunas," living creatures with eerily similar counterparts among some of the world's oldest fossils. Deep-sea researchers used a remotely operated vehicle (ROV) to look for life around Osprey Reef off Queensland's coast. They found some surprises including animals known only from faraway places and long-gone times. More...
A Model Church
"Remembering without ceasing your work of faith, and labour of love, and patience of hope in our Lord Jesus Christ, in the sight of God and our Father." (1 Thessalonians 1:3) More...
More Articles