The article requested is not found.
Browse through our Archives of articles.
Use our powerful article Search Tools.
Cancer Medicine in Wasp Toxin?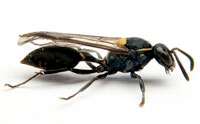 A short protein, or peptide, in wasp toxin may one day treat human cancer in a whole new way. Researchers isolated a particular peptide from the venom of Brazilian Polybia paulista wasps and studied how it seeks and destroys cancer cells while leaving normal cells unharmed. They uncovered intriguing details that enable this average-looking peptide to become a cell-destroying weapon. More...
Filled with the Knowledge of His Will
"For this cause we also, since the day we heard it, do not cease to pray for you, and to desire that ye might be filled with the knowledge of his will in all wisdom and spiritual understanding." (Colossians 1:9) More...
Lessons from Colossians
"To the saints and faithful brethren in Christ which are at Colosse: Grace be unto you, and peace, from God our Father and the Lord Jesus Christ." (Colossians 1:2)
Paul's letter to the church in Colossae is especially instructive to those who would seek a close relationship with the Lord Jesus. More...
The Bible Stands!
"Thy word is true from the beginning: and every one of thy righteous judgments endureth for ever." (Psalm 119:160)
Very few books survive very long. Only a few survive past the first printing, and science books especially get out of date in just a few years. More...
More Articles