The article requested is not found.
Browse through our Archives of articles.
Use our powerful article Search Tools.
Promised in Writing
"He that spared not his own Son, but delivered him up for us all, how shall he not with him also freely give us all things?" (Romans 8:32)
More...
The House of the Lord
"One thing have I desired of the LORD, that will I seek after; that I may dwell in the house of the LORD all the days of my life, to behold the beauty of the LORD, and to enquire in his temple." (Psalm 27:4)
More...
Blind Hearts
"Having the understanding darkened, being alienated from the life of God through the ignorance that is in them, because of the blindness of their heart." (Ephesians 4:18)
More...
RNA Editing in Corals Stupefies Evolution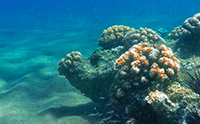 Corals are thought to be one of the earliest forms of multicellular life to have evolved. Today, corals are foundational to ocean life, but are they primitive? A new study shows that a highly complex system of genetic recoding called RNA editing is active in today's corals. Does this fit the evolution model or the creation model?
More...
More Articles