The article requested is not found.
Browse through our Archives of articles.
Use our powerful article Search Tools.
The Test of Expedience
"All things are lawful unto me, but all things are not expedient: all things are lawful for me, but I will not be brought under the power of any." (1 Corinthians 6:12)
More...
The Sinner's Prayer
"And the publican, standing afar off, would not lift up so much as his eyes unto heaven, but smote upon his breast, saying, God be merciful to me a sinner." (Luke 18:13)
More...
Instant Creation
"Let them praise the name of the LORD: for he commanded, and they were created." (Psalm 148:5)
More...
Plant-Eating Dinosaurs Consumed Crabs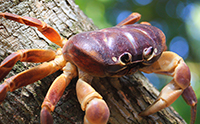 Paleontologists found bits of crustacean shell inside well-preserved dinosaur dung. Besides being a first-time discovery, these dietary supplements challenge the herbivore status of the hadrosaurs that ate them. They also raise questions about why dinosaurs would deviate from their normal diet.
More...
More Articles