The article requested is not found.
Browse through our Archives of articles.
Use our powerful article Search Tools.
The Communion of the Saints
"That which we have seen and heard declare we unto you, that ye also may have fellowship with us: and truly our fellowship is with the Father, and with his Son Jesus Christ." (1 John 1:3) More...
2014 Most Notable News: Evolutionary Icons Toppled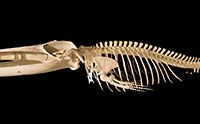 The big-picture story of evolution tells that, over millions of years, natural processes produced millions of species from one or a few primitive progenitors. Did this really happen, or did God create separate distinct "kinds" of creatures about 6,000 years ago like Genesis 1 clearly describes? More...
We, Being Many
"For as we have many members in one body, and all members have not the same office: So we, being many, are one body in Christ, and every one members one of another." (Romans 12:4-5) More...
Joy Is Better than Fun
"Thy words were found, and I did eat them; and thy word was unto me the joy and rejoicing of mine heart: for I am called by thy name, O LORD God of hosts." (Jeremiah 15:16) More...
More Articles