The article requested is not found.
Browse through our Archives of articles.
Use our powerful article Search Tools.
Missing Link or Another Fish Story?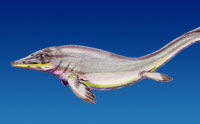 Recently there has been some celebration from the Darwinian community regarding a fossil discovery that allegedly links terrestrial animals to their future aquatic relatives. More...
Our Weapons
"For though we walk in the flesh, we do not war after the flesh." (2 Corinthians 10:3)
This verse introduces a famous apologetic charge to the saints. The key to the whole passage is the qualifier "we do not war after the flesh." More...
Teach and Preach Continually
"And daily in the temple, and in every house, they ceased not to teach and preach Jesus Christ." (Acts 5:42) More...
For Me to Live Is Christ
"For the love of Christ constraineth us; because we thus judge, that if one died for all, then were all dead: And that he died for all, that they which live should not henceforth live unto themselves, but unto him which died for them, and rose again." (2 Corinthians 5:14-15) More...
More Articles