The article requested is not found.
Browse through our Archives of articles.
Use our powerful article Search Tools.
Given to Us Eternal Life
"And this is the record, that God hath given to us eternal life, and this life is in his Son." (1 John 5:11)
Our text for today contains truths which provide great power and comfort for Christians. Let us reflect on some of them. More...
The Everlasting Covenant
"Now the God of peace, that brought again from the dead our Lord Jesus, that great shepherd of the sheep, through the blood of the everlasting covenant." (Hebrews 13:20) More...
The Day of Visitation
"Having your conversation honest among the Gentiles: that, whereas they speak against you as evildoers, they may by your good works, which they shall behold, glorify God in the day of visitation." (1 Peter 2:12) More...
Human Nucleome Reveals Amazing 4D World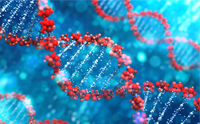 A new study investigating the three-dimensional human genome (the nucleome) in the context of time and gene expression revealed unimaginable complexity and precision. The authors of a new research paper, published in the Proceedings of the National Academy of Sciences, wrote at the very beginning of their report, "The human genome is a beautiful example of a dynamical system in three dimensions." The results of their research spectacularly vindicated this opening statement. More...
More Articles