The article requested is not found.
Browse through our Archives of articles.
Use our powerful article Search Tools.
Blind Cavefish Illuminate Divine Engineering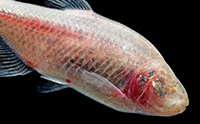 The traditional evolutionary view predicts mutations in eye development genes as being responsible for the removal of eyes in blind cavefish—as if the loss of genetic information is somehow evidence of forward evolutionary progress. Now even this idea has floundered in light of a new study showing that eye loss in cavefish is mediated by a sophisticated adaptive mechanism involving epigenetics.
More...
Godly Boasting
"I will bless the LORD at all times: his praise shall continually be in my mouth. My soul shall make her boast in the LORD: the humble shall hear thereof, and be glad. O magnify the LORD with me, and let us exalt his name together." (Psalm 34:1-3)
More...
The Unfailing Presence
"And, behold, I am with thee, and will keep thee in all places whither thou goest, and will bring thee again into this land; for I will not leave thee, until I have done that which I have spoken to thee of." (Genesis 28:15)
More...
Sudden Creation
"For God, who commanded the light to shine out of darkness, hath shined in our hearts, to give the light of the knowledge of the glory of God in the face of Jesus Christ." (2 Corinthians 4:6)
More...
More Articles