The Everlasting Covenant
by Henry M. Morris, Ph.D. | Jul. 29, 2015
"Now the God of peace, that brought again from the dead our Lord Jesus, that great shepherd of the sheep, through the blood of the everlasting covenant." (Hebrews 13:20)
This is the only verse in the book of Hebrews that refers specifically to Christ's resurrection from the dead. It occurs at the climactic conclusion of the book (which had previously referred at least 17 times to the atoning death of Christ) and is associated with God's everlasting covenant with His people.
The covenant theme is strong in the book of Hebrews. The Greek word diatheke, which is also frequently translated "testament," occurs more in Hebrews than in all the rest of the New Testament (or "New Covenant") put together. The word basically means a contract, especially one for disposition of an inheritance.
A number of God's divine covenants are mentioned in Scripture, but the writer of Hebrews is especially concerned with God's new covenant (or "new testament"). It is surely the most significant of all covenants.
This new covenant is also called "a better covenant" (Hebrews 7:22; 8:6). It is best defined in Hebrews 8:10-12, quoting Jeremiah 31:33-34: "I will put my laws into their mind, and write them in their hearts: . . . and their sins and their iniquities will I remember no more." Christ is "the mediator of the new testament, that by means of death, for the redemption of the transgressions that were under the first testament, they which are called might receive the promise of eternal inheritance" (Hebrews 9:15).
The inheritance is eternal because the covenant is everlasting. The blood of the covenant is the infinitely precious blood of Christ, whom God has raised from the dead, and now "he ever liveth to make intercession" for all those who "come unto God by him" (Hebrews 7:25). HMM
The Day of Visitation
"Having your conversation honest among the Gentiles: that, whereas they speak against you as evildoers, they may by your good works, which they shall behold, glorify God in the day of visitation." (1 Peter 2:12) More...
Human Nucleome Reveals Amazing 4D World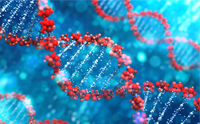 A new study investigating the three-dimensional human genome (the nucleome) in the context of time and gene expression revealed unimaginable complexity and precision. The authors of a new research paper, published in the Proceedings of the National Academy of Sciences, wrote at the very beginning of their report, "The human genome is a beautiful example of a dynamical system in three dimensions." The results of their research spectacularly vindicated this opening statement. More...
He Shall Judge the World
"Before the LORD: for he cometh, for he cometh to judge the earth: he shall judge the world with righteousness, and the people with his truth." (Psalm 96:13) More...
Places He Has Been
"And Judas also, which betrayed him, knew the place: for Jesus ofttimes resorted thither with his disciples." (John 18:2) More...
More Articles