Christ Our Substitute
by Henry Morris, Ph.D. | Apr. 21, 2015
"So Christ was once offered to bear the sins of many; and unto them that look for him shall he appear the second time without sin unto salvation." (Hebrews 9:28)
There are two specific references in the New Testament to Christ "bearing" our sins as He died on the cross. In addition to our text above, the other is 1 Peter 2:24: "Who his own self bare our sins in his own body on the tree."
However, the same word (Greek anaphero) is also used with a similar thrust in Hebrews 7:27, where it is translated "offer up": "Who needeth not daily, as those high priests, to offer up sacrifice, first for his own sins, and then for the people's: for this he did once, when he offered up himself."
When Christ died, He died as a substitutionary sacrifice, "offering up" our sins for judgment and punishment by a holy God, as He simultaneously "offered up" Himself as the One who would submit to that judgment and bear that punishment. He was able to do this because He was both the infinite Creator and the one sinless man, who needed not to offer a sacrifice for His own sins. He was willing to do this because He loved us and wanted to save us.
This doctrine of substitutionary sacrifice is central to the gospel of salvation, and therefore precious to the saint. But its central importance likewise means that it is profoundly offensive to the natural man. Many acclaim Him as a great martyr or a great teacher, but deny either His deity or His humanity, and certainly deny the universal efficacy of His shed blood in substitutionary sacrifice for the sin of a lost world.
Nevertheless, He did bear the sins of "the many," and He did completely settle our account with God. In both Hebrews 7:27 and 9:28 (as cited above), the word "once" means, literally, "once for all." He did have to die once—but only once—as our sin-bearing substitute. Thus, when He comes again, it will be "without sin unto salvation." HMM
Mosasaur Babies: Aren't They Cute?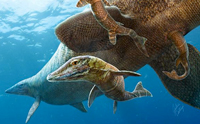 We often hear claims that birds are similar to dinosaurs, but birds and mosasaurs? Mosasaurs were swimming reptiles. How can they be confused with birds? A recent study published in Palaeontology by Yale University's Daniel Field and his colleagues clears up some of this confusion and in the end, illustrates a mosasaur lifecycle of marvelous design. More...
Pastors and Teachers
"And he gave some, apostles; and some, prophets; and some, evangelists; and some, pastors and teachers." (Ephesians 4:11) More...
Fear Not, Little Flock
"But rather seek ye the kingdom of God; and all these things shall be added unto you." (Luke 12:31) More...
Headstone of the Corner
"The stone which the builders refused is become the head stone of the corner." (Psalm 118:22) More...
More Articles