Creator of All Things
by Henry M. Morris III, D.Min. | Oct. 13, 2015
"For by him were all things created, that are in heaven, and that are in earth, visible and invisible, whether they be thrones, or dominions, or principalities, or powers: all things were created by him, and for him." (Colossians 1:16)
The phrase "all things" is used throughout these verses to emphasize that everything has been brought into existence by the "dear Son" (Colossians 1:13, 16-20).
All things were created through Him and for Him.
All things consist (stand together) in Him.
All things will give preeminence to Him.
All things reside in His fullness.
All things will be reconciled to Him.
The list of created things in verse 16 is exhaustive: heaven, Earth, visible and invisible things, and the rulers in and of the universe—thrones, dominions, principalities, powers. Jesus Christ is "far above all principality, and power, and might, and dominion, and every name that is named, not only in this world, but also in that which is to come" (Ephesians 1:21).
The Creator existed before all things and now "approves" all things. Solomon understood this as he spoke of wisdom: "The LORD possessed me in the beginning of his way, before his works of old. I was set up from everlasting, from the beginning, or ever the earth was" (Proverbs 8:22-23), just as He chose us "before the foundation of the world" (Ephesians 1:4).
When the Lord Jesus revealed Himself to John, He said, "I am Alpha and Omega, the beginning and the ending, saith the Lord, which is, and which was, and which is to come, the Almighty" (Revelation 1:8). These grand sweeps of eternity are anchors for our faith. But we must not lose sight that "the heavens and the earth, which are now, by the same word [the word of the Creator] are kept in store, reserved unto fire against the day of judgment and perdition of ungodly men" (2 Peter 3:7). HMM III
Prosecute Climate-Change Skeptics?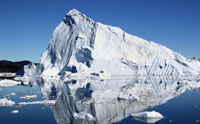 Twenty academics have written a letter to President Obama, urging him to use the RICO law—an instrument originally developed to wield against organized crime—to investigate organizations that are skeptical of the purported dangers of "climate change." More...
The Dove and the New World
"And the dove came in to him in the evening; and, lo, in her mouth was an olive leaf pluckt off: so Noah knew that the waters were abated from off the earth." (Genesis 8:11) More...
Line upon Line
"The word of the LORD was unto them precept upon precept, precept upon precept; line upon line, line upon line; here a little, and there a little; that they might go, and fall backward, and be broken, and snared, and taken." (Isaiah 28:13) More...
The Great Physician
"But when Jesus heard that, he said unto them, They that be whole need not a physician, but they that are sick." (Matthew 9:12)
It almost goes without saying that a person who is seriously ill would do anything to regain health. But the sad fact is, few people really pay attention to their health until they are threatened with its loss. More...
More Articles