The Pillar and Ground of the Truth
by John D. Morris, Ph.D. | May. 26, 2015
"These things write I unto thee, hoping to come into thee shortly: But if I tarry long, that thou mayest know how thou oughtest to behave thyself in the house of God, which is the church of the living God, the pillar and ground of the truth." (1 Timothy 3:14-15)
The church has been ordained by God to be the primary instrument through which His work on Earth is to be accomplished. Here Paul uses three phrases to describe three aspects of the church:
The house of God: The Christian family with husband, wife, and children performing their God-given roles, provides a beautiful picture of the relationship of the church (the "bride" of Christ) to the Lord. The household of God consists of a family of believers where love controls and where He is honored. "Ye also, as lively stones, are built up a spiritual house, an holy priesthood, to offer up spiritual sacrifices, acceptable to God by Jesus Christ" (1 Peter 2:5).
The church of the living God: The ekklesia, or "called-out ones," serve the living God. "The blood of Christ [shall] . . . purge your conscience from dead works to serve the living God" (Hebrews 9:14).
The pillar and ground of the truth: A facade pillar of a building is not used for support, but rather for display by elevating or calling attention to something else. The ground provides the support. The church should function to support and display the whole truth in such a way that all men can see and believe it.
It should be a family of believers exhibiting brotherly love, individually and corporately serving the living God out of a pure conscience, defending the truth, and displaying it to the lost. May each of us as church members enjoy and support such a church. JDM
Pilgrims on the Earth
"These all died in faith, not having received the promises, but having seen them afar off, and were persuaded of them, and embraced them, and confessed that they were strangers and pilgrims on the earth. For they that say such things declare plainly that they seek a country." (Hebrews 11:13-14) More...
A Provoked Spirit
"They angered him also at the waters of strife, so that it went ill with Moses for their sakes: Because they provoked his spirit, so that he spake unadvisedly with his lips." (Psalm 106:32-33) More...
The Veil over the Nations
"And he will destroy in this mountain the face of the covering cast over all people, and the vail that is spread over all nations." (Isaiah 25:7) More...
What Mean These Stones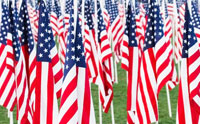 The poet George Santayana once said, "Those who cannot learn from history are doomed to repeat it." In the life of every nation, there are "memories" that must be preserved if that nation is to retain an awareness of its unique role among the nations of the world—indeed, among the long list of nations throughout history. More...
More Articles