The Christian's Parentage
by Henry M. Morris III, D.Min. | Dec. 11, 2016
"And you hath he quickened, who were dead in trespasses and sins." (Ephesians 2:1)
There are three descriptions of what we were prior to God's work in us, as described in the second chapter of Ephesians and as listed below. We were "dead in trespasses [activities] and sins [character, attitude, condition]." The result was that we were unable to understand or seek God on our own (Romans 3:10-11). Nor are we able to know the "things of God" by our own intellectual prowess (1 Corinthians 2:14). "We walked according to the course of this world" (Ephesians 2:2) in "bondage" to the world (Galatians 4:3) and with the eyes of our minds "blinded" by Satan (2 Corinthians 4:4). We are "by nature the children of wrath" (Ephesians 2:3). Both our natural desires (5:5-6) and our willful unbelief (John 3:36) have placed us under the ever-increasing wrathful judgment of God (Romans 2:5-9).
The transformation performed by God on us can only be "his workmanship, created in Christ Jesus" (Ephesians 2:10). It involves God's rich "mercy" and "great love" (v. 4) to make us alive when we were dead (see John 5:21-24; Romans 6:4-6, 9-11).
That power "raises" us and "seats" us with God positionally in the heavens (Ephesians 2:6). That grace is effected through faith, and even "that not of yourselves: it is the gift of God: Not of works, lest any man should boast" (vv. 8-9).
Whatever all of these promises may ultimately involve, they assure us of permanent status as the chosen, holy ones of God (Romans 8:29-39), "that in the ages to come he might shew the exceeding riches of his grace in his kindness toward us through Christ Jesus" (Ephesians 2:7). HMM III
Another Feathered Dinosaur Tale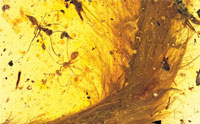 On December 8, 2016, a science news story broke that researchers had found entombed in mid-Cretaceous amber a dinosaur tail complete with "primitive plumage"—i.e., feathers. Is this claim credible?
More...
The Christian's Power
"And . . . the exceeding greatness of his power to us-ward who believe." (Ephesians 1:19)
More...
Faith vs. Science
The scientific world strives to exclude God from its thinking, and faith is not subject to the scientific method. So, how do we reconcile faith and science?
Other episodes in this series:
Why Use Words?
Facts vs. Fantasy
For more radio programs, click here.
More...
The Christian's Possibilities
"That the God of our Lord Jesus Christ . . . May give unto you the spirit of wisdom and revelation in the knowledge of him: The eyes of your understanding being enlightened." (Ephesians 1:17-18)
More...
More Articles