God in the Garden
by Henry Morris, Ph.D. | Dec. 26, 2014
"And the LORD God planted a garden eastward in Eden; and there he put the man whom he had formed." (Genesis 2:8)
This was the world's first garden, and it must have been a beautiful garden, for God had planted it Himself. Every tree was "pleasant to the sight"; there was a lovely river "to water the garden" (Genesis 2:9-10), and God was there.
Then one day God was "walking in the garden" only to find that "Adam and his wife hid themselves from the presence of the LORD God amongst the trees of the garden" (Genesis 3:8). Sin had entered, and Adam and Eve had to be cast out, leaving God alone in the garden (Genesis 3:23).
Many years later, God entered another garden with His loved ones. "He went forth with his disciples over the brook Cedron, where was a garden, into the which he entered, and his disciples" (John 18:1). There in the garden of Gethsemane, the disciples soon fell asleep, once again leaving Him alone in the garden, "withdrawn from them about a stone's cast" (Luke 22:41). There He "offered up prayers and supplications with strong crying and tears" (Hebrews 5:7) as He faced the death that He had pronounced on His very first loved ones long before in that first garden.
There was yet another garden where He must be alone. "In the place where he was crucified there was a garden; and in the garden a new sepulchre, wherein was never man yet laid. There laid they Jesus" (John 19:41-42). God had walked alone in the first garden, seeking His own. He knelt alone in the second garden, praying for His own. He was buried alone in the third garden, having died for His own. Therefore, in the new "paradise of God" where the pure river flows and the tree of life grows eternally, "his servants shall serve him" and reign with Him "for ever and ever" (Revelation 2:7; 22:1-3, 5). HMM
Facts Bite into Bird Tooth Story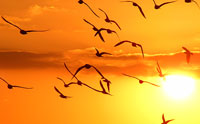 Fossils clearly show that some birds used to have small teeth, but most birds today do not have teeth. When and how did this change happen? A new study in the journal Science makes a few unfounded conclusions. More...
Signs of Christmas
"Moreover the LORD spoke again unto Ahaz, saying, Ask thee a sign of the LORD thy God; ask it either in the depth, or in the height above." (Isaiah 7:10-11) More...
Interpreting the Bible
"Knowing this first, that no prophecy of the scripture is of any private interpretation. For the prophecy came not in old time by the will of man: but holy men of God spake as they were moved by the Holy Ghost." (2 Peter 1:20-21) More...
Cosmetology and the Christian
"Whose adorning let it not be that outward adorning of plaiting the hair, and of wearing of gold, or of putting on of apparel; But let it be the hidden man of the heart, in that which is not corruptible, even the ornament of a meek and quiet spirit, which is in the sight of God of great price." (1 Peter 3:3-4) More...
More Articles