Our Weapons
by Henry Morris III, D.Min. | Nov. 24, 2014
"For though we walk in the flesh, we do not war after the flesh." (2 Corinthians 10:3)
This verse introduces a famous apologetic charge to the saints. The key to the whole passage is the qualifier "we do not war after the flesh."
We must conduct war with non-flesh weapons, since "we wrestle not against flesh and blood, but against principalities, against powers, against the rulers of the darkness of this world, against spiritual wickedness in high places" (Ephesians 6:12). Fleshly wisdom (2 Corinthians 1:12) often is nothing more than a "snare of the devil" (2 Timothy 2:26) and may well spoil us if we are not very careful (Colossians 2:8).
The objective, of course, is to bring every intellectual argument captive to the truth of Scripture. This is done by the pulling down of strongholds and "casting down imaginations, and every high thing that exalteth itself against the knowledge of God" (2 Corinthians 10:5). This warfare, if not done according to the flesh (2 Corinthians 1:17), is "mighty through God" (2 Corinthians 10:4).
Nowhere in these verses is there permission or an implied need to learn the thoughts of the enemy before we can bring them into captivity. Biblical data insist that the flesh has "no good thing" (Romans 7:18) and cannot understand the things of God. The weapons we have are not fleshly (i.e., natural thinking, natural emotion, human reasoning, etc.). Our weapons (Ephesians 6) are the "sword of the Spirit" (offensive) and the "shield of faith" (defensive), and we're protected by the full armor of God—praying always. It is not possible to learn all the subtle arguments of the enemy. What is possible, however, is a knowledge of the truth through our having the "mind of Christ" (1 Corinthians 2:16) that will make us sufficient for "all things that pertain unto life and godliness" (2 Peter 1:3). HMM III
Teach and Preach Continually
"And daily in the temple, and in every house, they ceased not to teach and preach Jesus Christ." (Acts 5:42) More...
For Me to Live Is Christ
"For the love of Christ constraineth us; because we thus judge, that if one died for all, then were all dead: And that he died for all, that they which live should not henceforth live unto themselves, but unto him which died for them, and rose again." (2 Corinthians 5:14-15) More...
Peacemakers
"Blessed are the peacemakers: for they shall be called the children of God." (Matthew 5:9)
In this seventh (out of nine) of the Beatitudes with which Christ began His Sermon on the Mount occurs the first mention in the New Testament of the important word "peace." More...
Plants' Built-in Photosynthesis Accelerators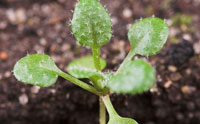 Sunlight can change in a heartbeat. One second, a leaf could be under intense sun and may receive more light than it needs to build sugar molecules through a process called photosynthesis. But a few seconds later, a cloud may wander overhead and block the sun, starving the plant's photosynthetic machinery. A team of plant biologists recently discovered new mechanisms that help plants cope with these fast-changing light conditions. More...
More Articles