Fruitful in Every Good Work
by Henry M. Morris III, D.Min. | Oct. 7, 2015
"That ye might walk worthy of the Lord unto all pleasing, being fruitful in every good work, and increasing in the knowledge of God." (Colossians 1:10)
There are many admonitions in Scripture insisting that the child of God maintain a lifestyle that reflects the holy character of the Savior.
The unique phrase "walk worthy" appears only three times in the New Testament: once in our text today; once in Ephesians 4:1, where we are asked to "walk worthy of the vocation wherewith ye are called"; and once in 1 Thessalonians 2:12, where we are admonished to "walk worthy of God, who hath called you unto his kingdom and glory."
Paul's admonition to the church at Colossae was to live in such a way that everything would be "all pleasing" to our Lord. The Galatian church was struggling with members who were trying to keep the "old" Jewish law. Paul argued, "Do I now persuade men, or God? or do I seek to please men? for if I yet pleased men, I should not be the servant of Christ" (Galatians 1:10). Paul insisted to the Thessalonians, "As we were allowed of God to be put in trust with the gospel, even so we speak; not as pleasing men, but God, which trieth our hearts" (1 Thessalonians 2:4).
Since we are to "walk worthy," we are to be "fruitful in every good work." Indeed, "we are his workmanship, created in Christ Jesus unto good works, which God hath before ordained that we should walk in them" (Ephesians 2:10).
None of this should be a surprise. When God drew us to Himself (John 6:44), brought the necessary conviction of our sin, Christ's righteousness, and the judgment to come (John 16:7-8), what was "dead in trespasses and sin" (Ephesians 2:1) had to become a "new creature" (2 Corinthians 5:17), "created in righteousness and true holiness" (Ephesians 4:24). That "new man" is then empowered to "walk worthy." HMM III
Cancer Medicine in Wasp Toxin?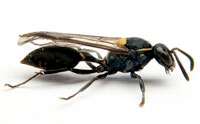 A short protein, or peptide, in wasp toxin may one day treat human cancer in a whole new way. Researchers isolated a particular peptide from the venom of Brazilian Polybia paulista wasps and studied how it seeks and destroys cancer cells while leaving normal cells unharmed. They uncovered intriguing details that enable this average-looking peptide to become a cell-destroying weapon. More...
Filled with the Knowledge of His Will
"For this cause we also, since the day we heard it, do not cease to pray for you, and to desire that ye might be filled with the knowledge of his will in all wisdom and spiritual understanding." (Colossians 1:9) More...
Lessons from Colossians
"To the saints and faithful brethren in Christ which are at Colosse: Grace be unto you, and peace, from God our Father and the Lord Jesus Christ." (Colossians 1:2)
Paul's letter to the church in Colossae is especially instructive to those who would seek a close relationship with the Lord Jesus. More...
The Bible Stands!
"Thy word is true from the beginning: and every one of thy righteous judgments endureth for ever." (Psalm 119:160)
Very few books survive very long. Only a few survive past the first printing, and science books especially get out of date in just a few years. More...
More Articles