Delivered, Translated, Forgiven
by Henry M. Morris III, D.Min. | Oct. 9, 2015
"Who hath delivered us from the power of darkness, and hath translated us into the kingdom of his dear Son: In whom we have redemption through his blood, even the forgiveness of sins." (Colossians 1:13-14)
The central message of the gospel lies in Christ's sacrifice and resurrection. There is much more, of course, to our salvation. The immediate result is described in the two short verses of our text.
We have been delivered "from darkness to light, and from the power of Satan unto God" (Acts 26:18). We have been delivered "from unreasonable and wicked men" (2 Thessalonians 3:2) and "from every evil work," and are preserved "unto his heavenly kingdom" (2 Timothy 4:18). Ultimately, we have been delivered "from the wrath to come" (1 Thessalonians 1:10).
We have also been "translated" into the eternal kingdom of the Lord Jesus. We will "not come into condemnation" but have been turned "from death unto life" (John 5:24). Our life prior to salvation was darkness, but we have been made "light in the Lord" (Ephesians 5:8). No longer are we aliens outside of God's family, but we have been "accepted in the beloved" (Ephesians 1:6).
Furthermore, all of our sins have been forgiven, and we are "justified freely by his grace" (Romans 3:24). That forgiveness and justification seal us "unto the day of redemption" (Ephesians 4:30). And since this is an eternal transaction brought about by a transcendent Creator, we have been raised "up together, and made [to] sit together in heavenly places" (Ephesians 2:6). Already we have the "earnest of our inheritance" (Ephesians 1:14) and the assurance that we will "obtain a better resurrection" (Hebrews 11:35).
In this life, we may struggle with human rejection. David's comment seems appropriate: "I am as a wonder unto many; but thou art my strong refuge" (Psalm 71:7). HMM III
Liquid Water on Mars?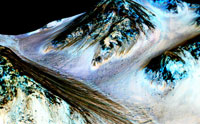 Scientists have announced indirect evidence of liquid water on the surface of Mars, raising hopes among secular scientists that life may be present on the "red planet." But why do they hope for this—and are such hopes realistic? More...
Qualified to Inherit
"Strengthened with all might, according to his glorious power, unto all patience and longsuffering with joyfulness; Giving thanks unto the Father, which hath made us meet to be partakers of the inheritance of the saints in light." (Colossians 1:11-12) More...
Fruitful in Every Good Work
"That ye might walk worthy of the Lord unto all pleasing, being fruitful in every good work, and increasing in the knowledge of God." (Colossians 1:10)
There are many admonitions in Scripture insisting that the child of God maintain a lifestyle that reflects the holy character of the Savior. More...
Cancer Medicine in Wasp Toxin?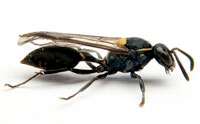 A short protein, or peptide, in wasp toxin may one day treat human cancer in a whole new way. Researchers isolated a particular peptide from the venom of Brazilian Polybia paulista wasps and studied how it seeks and destroys cancer cells while leaving normal cells unharmed. They uncovered intriguing details that enable this average-looking peptide to become a cell-destroying weapon. More...
More Articles