The Day of Visitation
by Henry M. Morris, Ph.D. | Jul. 28, 2015
"Having your conversation honest among the Gentiles: that, whereas they speak against you as evildoers, they may by your good works, which they shall behold, glorify God in the day of visitation." (1 Peter 2:12)
This unique expression, "in the day of visitation," based on a surprising use of the Greek word episkope, occurs one other time in such a way, when Christ wept over Jerusalem and pronounced its coming judgment. "If thou hadst known, even thou, at least in this thy day, the things which belong unto thy peace! but now they are hid from thine eyes. . . . because thou knewest not the time of thy visitation" (Luke 19:42-44).
Now this word, episkope, and its derivatives are usually translated as "bishop," "office of a bishop," or "bishopric," and it seems strange at first that it could also mean "visitation." However, its basic meaning is "overseer," or "oversight," and the Lord Jesus Christ Himself is really the "Shepherd and Bishop of [our] souls" (1 Peter 2:25), as well as that of nations and, indeed, every aspect of every life.
As a bishop or pastor ("shepherd") is responsible for the "oversight" of his local church, or flock, so Christ is "that great Shepherd of the sheep," the true "Bishop of [our] souls," the overseer of all people in every age. In His great plan of the ages, the Jews, and then the Gentiles, each have been entrusted with a time of "visitation," or "oversight," of God's witness to the world. Sadly, Jerusalem "knewest not the time of [her] visitation" (Luke 19:44) and, as for Judas, the Lord had to say, "his bishoprick let another take" (Acts 1:20).
Now in God's providence, it is the time of Gentile oversight, and it is eternally important that we who know His salvation today glorify God by our good works, with our "conversation [i.e., lifestyle] honest among the Gentiles" in our own "day of visitation." HMM
Human Nucleome Reveals Amazing 4D World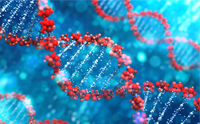 A new study investigating the three-dimensional human genome (the nucleome) in the context of time and gene expression revealed unimaginable complexity and precision. The authors of a new research paper, published in the Proceedings of the National Academy of Sciences, wrote at the very beginning of their report, "The human genome is a beautiful example of a dynamical system in three dimensions." The results of their research spectacularly vindicated this opening statement. More...
He Shall Judge the World
"Before the LORD: for he cometh, for he cometh to judge the earth: he shall judge the world with righteousness, and the people with his truth." (Psalm 96:13) More...
Places He Has Been
"And Judas also, which betrayed him, knew the place: for Jesus ofttimes resorted thither with his disciples." (John 18:2) More...
With the Rich in His Death
"And he made his grave with the wicked, and with the rich in his death; because he had done no violence, neither was any deceit in his mouth." (Isaiah 53:9) More...
More Articles