Cleansed by the Word
by Henry M. Morris III, D.Min. | Sep. 5, 2015
"Wherewithal shall a young man cleanse his way? by taking heed thereto according to thy word." (Psalm 119:9)
Psalm 119:9-16 provides key instructions for those who would seek to please their Creator with a godly life.
"Taking heed" (Hebrew shamar—guarding) of God's Word is the foundation upon which a godly life is built (vv. 10-11). The psalmist sought God with his whole heart and pleaded with God to prevent him from wandering (Hebrew shagah—to stray through ignorance). That plea was then turned into a confirmation and an understanding: "Thy word have I hid in mine heart, that I might not sin against thee" (v. 11).
With the assurance of these foundational elements, the psalmist promised the Lord that he will organize his life so that he "will not forget thy word" (v. 16).
Similar to the apostle John's assurance in his first epistle, the psalmist recognized behaviors that he was already exhibiting. His "lips" have "declared" the judgments of God (v. 13). He knows that he has "rejoiced in the way" (v. 14) of God's revealed testimonies as much as the ungodly have boasted of gaining wealth. He is no stranger to godly living and loves the way of God, seeking to excel in holiness (1 John 5:3).
The section closes with two "I will" promises, surely based upon his earlier commitment to cleanse his way. The psalmist promised to "meditate in [God's] precepts, and have respect unto [His] ways" (v. 15). This assumes time, study, and careful thought about the purposes and intent of God's message. It is not a promise to sit comfortably and "clear one's mind" of cogent thinking, waiting on some voice to reveal truth. The psalmist can then "delight" in the statutes of the Word (Psalm 119:16; Romans 7:22).
As we seek to know God's great Word, may His works refresh our hearts and delight our lives. HMM III
Man and His Labor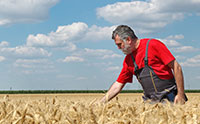 Whatever our job may be, it can be regarded as serving Christ and helping to fulfill His primeval-dominion commandment, and even helping lead others to know Him. More...
Our Sins
"All we like sheep have gone astray; we have turned every one to his own way; and the LORD hath laid on him the iniquity of us all." (Isaiah 53:6) More...
Blessed by the Word
"Blessed are the undefiled in the way, who walk in the law of the LORD." (Psalm 119:1) More...
"Watch Out for Gold, Glory, and Girls!"
That was the constant warning from an old evangelist to his "preacher boys" when I was preparing for the ministry nearly 50 years ago. Obviously, that warning is just as relevant today. List of previous Articles