Zechariah's Visions: One Candlestick, Seven Lamps, Two Olive Trees
by Henry Morris III, D.Min. | Dec. 17, 2014
"I have looked, and behold a candlestick all of gold, with a bowl upon the top of it, and his seven lamps thereon, and seven pipes to the seven lamps, which are upon the top thereof: And two olive trees by it, one upon the right side of the bowl, and the other upon the left side thereof." (Zechariah 4:2-3)
This vision has three main messages. It represents "the word of the LORD" given to Zerubbabel which is "not by might, nor by power, but by my spirit" (Zechariah 4:6). It also foretells the finishing of the temple by Zerubbabel wherein the "mountain" will become a "plain" and the "small things" will become the "plummet" in the hand of Zerubbabel (Zechariah 4:7-10). Finally, the vision presents "the two anointed ones that stand by the LORD of the whole earth" (Zechariah 4:14).
The golden candlestick symbol was used in the tabernacle with seven lamps on each branch (Exodus 25). Ten duplicate candlesticks were in the temple of Solomon (1 Kings 7:49). Seven individual candlesticks are revealed in Revelation 1 that represent "the seven churches." The similarities and differences suggest something about the "mystery" that God kept from the Old Testament saints (Ephesians 3:9).
The two olive trees are unique to Zechariah. God called Judah a "green olive tree, fair, and of goodly fruit" (Jeremiah 11:16). God called the New Testament church "the olive tree which is wild by nature" (Romans 11:24). Some have suggested that Revelation 11:3-4 speaks of these "two witnesses" as the two olive trees and the two lampstands standing before the God of the earth. HMM III
Zechariah's Visions: The Eyes of the LORD
"For behold the stone that I have laid before Joshua; upon one stone shall be seven eyes....his seven lamps....those seven; they are the eyes of the LORD, which run to and fro through the whole earth." (Zechariah 3:9; 4:2, 10) More...
Unlocking the Origins of Snake Venom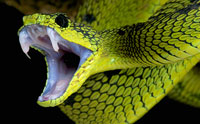 The origin of snake venom has been a long-time mystery to both creationists and evolutionists. Interestingly, new research confirms that the same genes that encode snake venom proteins are active in many other tissues. More...
Zechariah's Visions: Joshua and the BRANCH
"And he shewed me Joshua the high priest standing before the angel of the LORD, and Satan standing at his right hand to resist him." (Zechariah 3:1) More...
Zechariah's Visions: Man's Attempt to Measure
"I lifted up mine eyes again, and looked, and behold a man with a measuring line in his hand. Then said I, Whither goest thou? And he said unto me, To measure Jerusalem, to see what is the breadth thereof, and what is the length thereof." (Zechariah 2:1-2) More...
More Articles