Haste Makes Waste
by Henry Morris, Ph.D. | Jan. 27, 2015
"Therefore thus saith the Lord GOD, Behold, I lay in Zion for a foundation a stone, a tried stone, a precious corner stone, a sure foundation: he that believeth shall not make haste." (Isaiah 28:16)
This is one of the great Messianic prophecies of the Old Testament, promising a Savior who would be the sure foundation of the eternal temple of God; yet it was 700 years before the promise was fulfilled. God did not "make haste," but His promise, nevertheless, was sure. No doubt many believing Jews wondered why it was taking so long, but in the "fulness of the time" (Galatians 4:4), Christ came.
It is so easy to rush ahead of God instead of waiting for His leading. With good intentions and admirable zeal, Christians plan great programs, establish new organizations, promote legislation, and become involved in a thousand-and-one good activities, all in the name of Christ and His kingdom. Such activism is urgent, they believe, because the time is short. Nuclear war is coming; maybe even Christ is coming; and we must hurry.
But the Scripture says: "Therefore will the LORD wait, that he may be gracious unto you, and therefore will he be exalted, that he may have mercy upon you: for the LORD is a God of judgment: blessed are all they that wait for him" (Isaiah 30:18).
We must not fail to follow when He really leads through His Word, but all too often undue haste results in confusion and collapse. When our text is quoted by Peter (1 Peter 2:6), the phrase "make haste" is rendered by "be confounded," or "be ashamed." It is not honoring to God for Christian projects and activities to "be confounded," so Christian believers must be careful not to "make haste." "Wait, I say, on the LORD" (Psalm 27:14). HMM
Encore Presentation of Patterns of Evidence: Exodus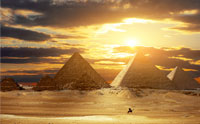 The Exodus is one of the best-known narratives in the Bible. It details the Israelites' escape from Egypt after centuries of slavery, Moses' rise to leadership, the devastating plagues on Egypt, and the miraculous Red Sea crossing. Yet many archaeologists and historians insist there is no evidence that the biblical Exodus ever occurred. This debate is the subject of the award-winning documentary Patterns of Evidence: Exodus that has an encore presentation this Thursday. More...
What Is His Name?
"They shall say to me, What is his name? what shall I say unto them? And God said unto Moses, I AM THAT I AM: and he said, Thus shalt thou say unto the children of Israel, I AM hath sent me unto you." (Exodus 3:13-14) More...
The Indwelling Christ
"To whom God would make known what is the riches of the glory of this mystery among the Gentiles; which is Christ in you, the hope of glory." (Colossians 1:27)
The fact that Jesus Christ is actually in each believer is both a great mystery and rich in glory. In fact, it is our very hope and assurance of glory in the age to come. More...
Paul's Growth
"For I say, through the grace given unto me, to every man that is among you, not to think of himself more highly than he ought to think; but to think soberly, according as God hath dealt to every man the measure of faith." (Romans 12:3) More...
More Articles