In the Shadow of His Wings
by John D. Morris, Ph.D. | Feb. 21, 2017
"Fear thou not; for I am with thee: be not dismayed; for I am thy God: I will strengthen thee; yea, I will help thee; yea, I will uphold thee with the right hand of my righteousness." (Isaiah 41:10)
Verse two of "Jesus, Lover of My Soul" deals with life's trials and tribulations and begins by presenting our Savior as "our refuge and strength, a very present help in trouble" (Psalm 46:1).
Other refuge have I none, hangs my helpless soul on Thee;
Leave, oh, leave me not alone; still support and comfort me.
All my trust on Thee is stayed, all my help from Thee I bring;
Cover my defenseless head with the shadow of Thy wing.
We may be helpless on our own, but in love He beckons us to "the throne of grace, that we may obtain mercy, and find grace to help in time of need" (Hebrews 4:16). Our soul need not hang in jeopardy. "He hath said, I will never leave thee, nor forsake thee . . . we may boldly say, The Lord is my helper, and I will not fear what man may do unto me" (Hebrews 13:5-6).
"There is none like unto the God of Jeshurun, who rideth upon the heaven in thy help, and in his excellency on the sky. The eternal God is thy refuge, and underneath are the everlasting arms" (Deuteronomy 33:26-27). Help from none other is needed. "Thou, O LORD, art a shield for me; my glory and the lifter up of mine head" (Psalm 3:3). As His sacrificial death drew near, Jesus' heart nearly broke over Israel's rejection of His love. "How often would I have gathered thy children together, even as a hen gathereth her chickens under her wings, and ye would not!" (Matthew 23:37). We dare not reject His loving provision. We can pray with David, "Keep me as the apple of the eye, hide me under the shadow of thy wings" (Psalm 17:8). The one to whom we pray will answer, for He is Jesus, the lover of the soul. JDM
Do Black Holes Exist?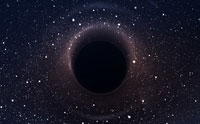 Do black holes really exist? If so, what are they? ICR Astrophysicist Dr. Jason Lisle sheds light on these mysterious celestial objects.
More...
Jesus, Lover of My Soul
"I am persuaded, that neither death, nor life, nor angels, nor principalities, nor powers, nor things present, nor things to come, Nor height, nor depth, nor any other creature, shall be able to separate us from the love of God, which is in Christ Jesus our Lord." (Romans 8:38-39)
More...
Naming Names
"Their word will eat as doth a canker: of whom is Hymenaeus and Philetus; Who concerning the truth have erred, saying that the resurrection is past already; and overthrow the faith of some." (2 Timothy 2:17-18)
More...
Him That Cometh to Me
"All that the Father giveth me shall come to me; and him that cometh to me I will in no wise cast out." (John 6:37)
In this verse and the verses to follow, we find Christ using a marvelous teaching technique. Several times He makes a general, generic statement but quickly advances from the general and impersonal to the particular and personal.
More...
More Articles