Mindful of the Words
by Henry Morris, Ph.D. | Mar. 28, 2015
"That ye may be mindful of the words which were spoken before by the holy prophets, and of the commandment of us the apostles of the Lord and Saviour." (2 Peter 3:2)
There has long been a tendency for certain Bible teachers to water down the doctrine of verbal inspiration by arguing that it is the "thoughts" of Scripture that count—not the precise words. They forget that the transmission of specific thoughts requires precise words. Ambiguous language is bound to produce fuzzy thinking and uncertain response.
Thus the apostle Peter, in his last chapter, urged his followers to heed the words written by the Old Testament prophets. And Paul—in his final epistle—stressed that "all Scripture is given by inspiration of God" (2 Timothy 3:16). That is, all the writings are "God-breathed." The "Scripture," of course, means the writings, the actual words written down—they are "God-inspired," not just the concepts.
Similarly John, in his last chapter, warned of the grave danger incurred by anyone who would either "add to" or "take away from," not just the ideas, but "the words of the book of this prophecy" (Revelation 22:18-19). Actually, "he which testifieth these things" was not just John but the glorified Jesus Himself (see Revelation 22:16, 20).
In fact, Jesus frequently quoted passages from the Old Testament, sometimes basing His entire thrust on a single word (e.g., John 10:34, 37; arguing on the basis of the word "gods" in Psalm 82:6). In that connection, He stressed that "the scripture cannot be broken" (John 10:35), referring to the actual words written by Moses and the prophets.
Near the end of His earthly ministry, He made a startling promise: "Heaven and earth shall pass away: but my words shall not pass away" (Mark 13:31). Thus the actual words of the Bible have come ultimately from God, and we do well to learn them and make them a part of our lives. HMM

The Deep Sleep
"And the LORD God caused a deep sleep to fall upon Adam, and he slept: and he took one of his ribs, and closed up the flesh instead thereof." (Genesis 2:21) More...
Twins Provide Peek Into Mankind's Origin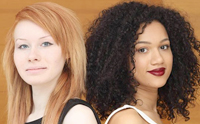 Lucy and Maria Aylmer are 18-year-old twins from the United Kingdom. They were born on the same day from the same mother, yet one has light skin and hair, and the other has dark skin and dark, curlier hair. Their unique story illustrates how human-trait variations found around the world could have arisen suddenly in Noah's offspring. More...
Babes in Christ
"Brethren, be not children in understanding: howbeit in malice be ye children, but in understanding be men." (1 Corinthians 14:20) More...
Holy Goodness
"[Barnabus] was a good man, and full of the Holy Ghost and of faith." (Acts 11:24) More...
More Articles