Fellowship
by John D. Morris, Ph.D. | Oct. 23, 2016
"And they continued stedfastly in the apostles' doctrine and fellowship, and in breaking of bread, and in prayers." (Acts 2:42)
Much goes on in Christian churches today under the name of "fellowship." Usually this consists of coffee and donuts, or church socials, or sports. As delightful as these functions may be, they should not be confused with biblical fellowship.
Nowhere in the New Testament do any of the Greek words translated "fellowship" imply fun times. Rather, they talk of, for example, "the fellowship of the ministering to the saints" (2 Corinthians 8:4) as sacrificial service and financial aid. (See, for example, 1 Timothy 6:18.)
Elsewhere, Paul was thankful for the Philippian believers' "fellowship in the gospel" (Philippians 1:5), for he knew that "inasmuch as both in my bonds, and in the defence and confirmation of the gospel, ye all are partakers [same word as fellowship] of my grace" (Philippians 1:7). This sort of fellowship may even bring persecution.
We are to emulate Christ's humility and self-sacrificial love (Philippians 2:5-8) through the "fellowship of the Spirit" (Philippians 2:1). In some way known only partially to us, we have the privilege of knowing "the fellowship of his sufferings, being made conformable unto his death" (Philippians 3:10), and even "the communion [i.e., fellowship] of the blood" and "body of Christ" (1 Corinthians 10:16).
As we can see, this "fellowship" is serious business. As in our text and subsequent verses, fellowship should be accompanied by teaching, prayer, and ministry to the poor (Acts 2:45).
This kind of fellowship will be in "favour with all the people. And the Lord added to the church daily such as should be saved" (Acts 2:47). JDM
The Pleasure of the Lord
"Yet it pleased the LORD to bruise him; he hath put him to grief: when thou shalt make his soul an offering for sin, he shall see his seed, he shall prolong his days, and the pleasure of the LORD shall prosper in his hand." (Isaiah 53:10)
More...
Heaven's Commonwealth
"For our conversation is in heaven; from whence also we look for the Saviour, the Lord Jesus Christ." (Philippians 3:20)
More...
Musical Bird Maestros Befuddle Evolution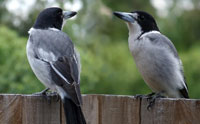 A recent paper shows that the skill of some songbirds to extemporaneously innovate musical repertoire equals that of human musicians. Since none of the apes have this complex human-like capability, the discovery poses a big problem for the evolutionary model of human origins.
More...
To the Animals
"Go to the ant, thou sluggard; consider her ways, and be wise: Which having no guide, overseer, or ruler, Provideth her meat in the summer, and gathereth her food in the harvest." (Proverbs 6:6-8)
More...
More Articles