Zechariah's Visions: Transition to the BRANCH
by Henry Morris III, D.Min. | Dec. 21, 2014
"Then take silver and gold, and make crowns, and set them upon the head of Joshua the son of Josedech, the high priest; And speak unto him, saying, Thus speaketh the LORD of hosts, saying, Behold the man whose name is The BRANCH; and he shall grow up out of his place, and he shall build the temple of the LORD." (Zechariah 6:11-12)
The instructions to Zechariah focus on setting up model leaders for Judah. Joshua is crowned High Priest, and crowns of authority are issued to others who had returned with Ezra and Zerubbabel (Zechariah 6:14). These were all to be a memorial toward the future coming of the BRANCH who would come and complete the work of God (Zechariah 6:12-15).
The role of the BRANCH is told to Zechariah earlier in the fourth vision among the myrtle trees. He would be the servant who would do the Lord's will as the Branch of righteousness who was the "stone" with "seven eyes" (Zechariah 3:8-9).
The promise of ultimate rule is clear in Scripture (Isaiah 9:7 and Jeremiah 23:5-6; 33:15-16). The impact of this prophecy in Zechariah extends to the Millennium and even into eternity. "And they that are far off shall come and build in the temple of the LORD, and ye shall know that the LORD of hosts hath sent me unto you" (Zechariah 6:15).
The little band of remnants needed assurance from their Lord. They, like us, need to shift their eyes beyond the moment to the end-game. "For the earth shall be filled with the knowledge of the glory of the LORD, as the waters cover the sea" (Habakkuk 2:14). HMM III
Zechariah's Visions: The Four Chariots
"And I turned, and lifted up mine eyes, and looked, and, behold, there came four chariots out from between two mountains; and the mountains were mountains of brass." (Zechariah 6:1) More...
Zechariah's Visions: The Ephah and the Women
"Then the angel that talked with me…said, This is an ephah that goeth forth. He said moreover, This is their resemblance through all the earth. And, behold, there was lifted up a talent of lead: and this is a woman that sitteth in the midst of the ephah." (Zechariah 5:5-7) More...
Amazing Ant Beetle Same Today as Yesterday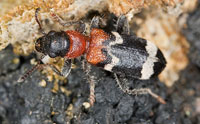 If ancient history according to Scripture is true, then what should we expect to find in animal fossils? Surely excellent body designs would top the list, closely followed by a lack of "transitional forms." A newly discovered specialized beetle inside Indian amber provides another peek into the past and an opportunity to test these Bible-based expectations. More...
Zechariah's Visions: The Flying Roll
"Then I turned, and lifted up mine eyes, and looked, and behold a flying roll…the length thereof is twenty cubits, and the breadth thereof ten cubits." (Zechariah 5:1-2) More...
More Articles