My Lord and My God
by Henry M. Morris, Ph.D. | Sep. 25, 2016
"And Thomas answered and said unto Him, My Lord and my God." (John 20:28)
Thomas has been called "doubting Thomas" because of his initial reluctance to believe in the Lord's resurrection, but neither the Lord nor the other disciples ever viewed him in such a light. His later ministry, as the first missionary/martyr to India, speaks clearly of his great faith.
It is only in John's gospel that we have any specific insight into Thomas' character. When the other disciples sought to dissuade Jesus from returning to Jerusalem, it was Thomas who urged, "Let us also go, that we may die with him" (John 11:16). Thomas understood the dangers awaiting them, but was ready to go wherever Jesus desired him to go. In the upper room when Jesus spoke of going away, Thomas, still willing to go with Him anywhere, was the only one to ask, "Lord, we know not whither thou goest; and how can we know the way?" (John 14:5). Then, just a few hours later, the Lord had been crucified, and soon "the doors were shut where the disciples were assembled for fear of the Jews" (John 20:19) as they hid themselves in the upper room.
But Thomas was not hiding! The Scriptures do not say where he was when Jesus appeared in their midst, but he was not hiding there like the others. He may well have been out working or witnessing, doing whatever he could to follow the Lord, but he (like the others) had failed to understand Jesus' promise that He would rise again.
When the other disciples reported that they had seen the resurrected Lord, Thomas, realizing the tremendous significance of such a miracle if it were true, insisted he must see the proof firsthand. Then, when he saw the Lord, he showed a higher comprehension of what had taken place than any of the others, as he whispered in awe: "My Lord, and my God!" HMM
For Thy Name's Sake
"For thou art my rock and my fortress; therefore for thy name's sake lead me, and guide me." (Psalm 31:3)
More...
The Meaning of Man
"When I consider thy heavens, the work of thy fingers, the moon and the stars, which thou hast ordained; What is man, that thou art mindful of him? and the son of man, that thou visitest him?" (Psalm 8:3-4)
More...
Creationist Worldview [Podcast]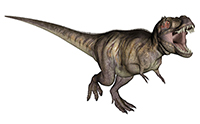 The Bible and science go together beautifully. ICR zoologist and researcher Frank Sherwin explains how in this 5-part podcast series on the creationist worldview. Mr. Sherwin shares the scientific and biblical evidence for a young earth, global Flood, and the origin of his favorite creatures—both living and extinct.
More...
Purified Seven Times
"The words of the LORD are pure words: as silver tried in a furnace of earth, purified seven times. Thou shalt keep them, O LORD, thou shalt preserve them from this generation for ever." (Psalm 12:6-7)
More...
More Articles