The Pleasure of the Lord
by Henry M. Morris, Ph.D. | Oct. 22, 2016
"Yet it pleased the LORD to bruise him; he hath put him to grief: when thou shalt make his soul an offering for sin, he shall see his seed, he shall prolong his days, and the pleasure of the LORD shall prosper in his hand." (Isaiah 53:10)
The very concept of God having pleasure in things that take place on Earth staggers the imagination. Most amazing of all is the revelation that it pleased Him to put His own Son through a terrible, bruising death, as the tremendous Messianic prophecy of our text reveals.
Nevertheless, this was the only possible way whereby "the pleasure of the LORD" could be accomplished in the redeemed lives of lost men and women, whom He had created for eternal fellowship with the triune God. "For the LORD taketh pleasure in his people: he will beautify the meek with salvation" (Psalm 149:4).
Five times we read in the New Testament that God the Father spoke from heaven assuring us that He was "well pleased" with His "beloved Son" (Matthew 3:17; 17:5; Mark 1:11; Luke 3:22; 2 Peter 1:17). "Yet it pleased the LORD to bruise him!" This is almost impossible to understand, but had it not been so, none of us ever could have been saved. The Lord Jesus Himself has confirmed to His own "little flock" that "it is your Father's good pleasure to give you the kingdom" (Luke 12:32).
Thus, not only have we been created "for thy pleasure" (Revelation 4:11), but also we have been "predestinated . . . unto the adoption of children by Jesus Christ to himself, according to the good pleasure of his will" (Ephesians 1:5). This is far beyond our comprehension, so we merely rest in the great truth that "it is God which worketh in you both to will and to do of his good pleasure" (Philippians 2:13). We know that "the LORD taketh pleasure in them that fear him" (Psalm 147:11), and we rejoice with thanksgiving! HMM
Heaven's Commonwealth
"For our conversation is in heaven; from whence also we look for the Saviour, the Lord Jesus Christ." (Philippians 3:20)
More...
Musical Bird Maestros Befuddle Evolution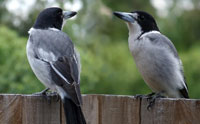 A recent paper shows that the skill of some songbirds to extemporaneously innovate musical repertoire equals that of human musicians. Since none of the apes have this complex human-like capability, the discovery poses a big problem for the evolutionary model of human origins.
More...
To the Animals
"Go to the ant, thou sluggard; consider her ways, and be wise: Which having no guide, overseer, or ruler, Provideth her meat in the summer, and gathereth her food in the harvest." (Proverbs 6:6-8)
More...
The Fatherhood of God
"For in him we live, and move, and have our being; as certain also of your own poets have said, For we are also his offspring." (Acts 17:28)
More...
More Articles