The Unintentional Prophet
by Henry M. Morris, Ph.D. | Sep. 28, 2016
"And this spake he not of himself: but being high priest that year, he prophesied that Jesus should die for that nation." (John 11:51)
Even after seeing the miracle of Lazarus restored to life, high priest Caiaphas refused to believe Jesus was the Messiah and was more firmly resolved than ever to have Him put to death. He used the excuse that Jesus might cause the Romans to destroy the Jews' religious system. So he said, "It is expedient for us, that one man should die for the people, and that the whole nation perish not" (John 11:50).
Like Balaam, forced to prophesy what he did not intend (Numbers 24:10-13), Caiaphas was made to predict the true significance of Christ's coming death. Instead of His death being "expedient for us"—for Caiaphas and his system—it was indeed "expedient that one man should die for the people" (John 18:14).
This is a remarkable divine irony. Caiaphas, the chief religious representative of God to the people of Israel, should have known the Old Testament prophecies and gladly welcomed Jesus as the promised Messiah. Instead, he organized His trial and condemnation. Yet he was divinely inspired (without knowing or intending it) to point out the real mission of Christ to the Jews and the whole world—that of substitutionary sacrifice for their sins. It is also interesting that in 1992 the bones of this same Caiaphas were discovered in a tomb underneath the modern city.
So far as we know, Caiaphas died still rejecting Christ. Nevertheless, following Christ's substitutionary death, the evidence for His glorious resurrection (eternal, not temporary like that of Lazarus) became so clear and compelling that "a great company of the priests were obedient to the faith" (Acts 6:7). Caiaphas did, indeed, manage to get Jesus crucified, but the result was salvation for multitudes. HMM
The New Creation
"For in Christ Jesus neither circumcision availeth any thing, nor uncircumcision, but a new creature." (Galatians 6:15)
More...
Gorillas, Endangerment, and Evolutionary Morality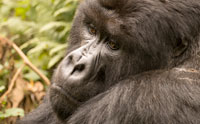 The International Union for Conservation of Nature (IUCN) revealed their latest Red List of Threatened Species at their World Conservation Congress in Hawaii on September 4, 2016. There, thousands of scientists and celebrities discussed recently extinct plants and others nearing extinction, but the primate declines grabbed the headlines. Two of the three great-ape kinds are rapidly shrinking. Why should these losses sadden those concerned?
More...
The Glory of the Lord
"And it came to pass, when the priests were come out of the holy place, that the cloud filled the house of the LORD, So that the priests could not stand to minister because of the cloud: for the glory of the LORD had filled the house of the LORD." (1 Kings 8:10-11)
More...
My Lord and My God
"And Thomas answered and said unto Him, My Lord and my God." (John 20:28)
More...
More Articles