The Greatest Love
by Henry M. Morris, Ph.D. | Feb. 14, 2016
"And he said, Take now thy son, thine only son Isaac, whom thou lovest, and get thee into the land of Moriah; and offer him there for a burnt offering upon one of the mountains which I will tell thee of." (Genesis 22:2)
There are many types of love in the world—romantic love, marital love, erotic love, brotherly love, maternal love, patriotic love, family love, and love for all kinds of things—pets, food, money, sports, and on and on. But what is the greatest love?
Love is probably the greatest word of the Bible, and, by the principle of first mention of important biblical words, the first time the word "love" occurs should be a key to its use all through the Bible. Rather surprisingly, love is first encountered here in our text, speaking of the love of a father for his son, of Abraham for Isaac, the son of promise. Furthermore, the father is being told by the very God who made the promise to offer his beloved son as a sacrifice!
From the New Testament (see Hebrews 11:17-18), we know that this entire scene is a remarkable type of the heavenly Father and His willingness to offer His own beloved Son in sacrifice for the sin of the world. This tells us that the love of this human father for his human son is an earthly picture of the great eternal love of the Father in heaven for His only begotten Son.
And that means that this love of God the Father for God the Son is the ultimate source of all love, for that love was being exercised before the world began. When Jesus prayed to His Father the night before His sacrificial death, He confirmed this great truth; "for thou lovedst me before the foundation of the world," He prayed (John 17:24). Indeed, "God is love" (1 John 4:8), and the eternal love within the triune Godhead is the fountainhead of all true human love here on Earth. HMM
Confirmation of the Gospel
"Even as it is meet for me to think this of you all, because I have you in my heart; inasmuch as both in my bonds, and in the defense and confirmation of the gospel, ye all are partakers of my grace." (Philippians 1:7) More...
Beetles and Bears Inspire Technologies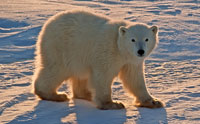 Namib desert beetles collect faint water droplets on their exquisitely designed outer surfaces so they can survive in their dry environments. And polar bears keep a tight grip on smooth ice using precisely designed footpads. Engineers have copied these exquisite designs to make useful tools. More...
Our Ministry to Angels
"To the intent that now unto the principalities and powers in heavenly places might be known by the church the manifold wisdom of God." (Ephesians 3:10) More...
The Living and the Written Word
"In the beginning was the Word, and the Word was with God, and the Word was God." (John 1:1) More...
More Articles