Nine Forty-Day Periods
by Henry Morris, Ph.D. | May. 27, 2015
"To whom also he showed himself alive after his passion by many infallible proofs, being seen of them forty days, and speaking of the things pertaining to the kingdom of God." (Acts 1:3)
It is interesting how often the Scriptures refer to a forty-day period. There are nine different forty-day periods noted in Scripture (the phrase itself occurs seventeen times), and it may be noteworthy that forty days is one-ninth of the original (and prophetic) lunar/solar year of 360 days (note Genesis 7:11; 8:3-4; Revelation 11:2-3). Thus, the total of the nine forty-day periods equals the ideal year.
These nine forty-day periods are as follows: (1) The intense rainfall at the start of the Flood (Genesis 7:12, 17); (2) The first giving of the law (Exodus 24:18; Deuteronomy 9:9, 11); (3) The second giving of the law (Exodus 34:28; Deuteronomy 9:18, 25); (4) The searching of Canaan by the fearful spies (Numbers 13:25; 14:34); (5) The defiance of Israel by Goliath (1 Samuel 17:16); (6) Elijah's journey to Horeb (1 Kings 19:8); (7) Jonah's reluctant preaching in Nineveh (Jonah 3:4); (8) Christ's temptation in the wilderness (Matthew 4:2; Mark 1:13; Luke 4:2); (9) Christ's post-resurrection ministry (Acts 1:3).
Each of these periods was a time of great stress and intense testing for one or more of God's people, except the last. Instead, the final forty-day period, encompassing Christ's ministry to His disciples after His resurrection, was a time of triumph and great blessing. He had come victoriously through the most intense time of stress and testing that anyone could ever experience, and now He could show Himself alive eternally to His disciples and promise them the same victory. Forty days of testing, then forty days of triumph! Even a lifetime of testing is more than balanced by an eternity of blessing. HMM
Remembering Mount St. Helens 35 Years Later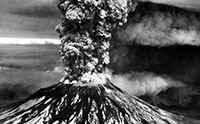 A landslide on the northern side of Mount St. Helens in Washington state on May 18, 1980 uncorked a violent volcanic eruption of ash, vapor, molten material and pulverized rock. The effects of this one of the most scrupulously documented volcanos in history have reshaped the way geologists think about certain landforms. More...
The Pillar and Ground of the Truth
"These things write I unto thee, hoping to come into thee shortly: But if I tarry long, that thou mayest know how thou oughtest to behave thyself in the house of God, which is the church of the living God, the pillar and ground of the truth." (1 Timothy 3:14-15) More...
Pilgrims on the Earth
"These all died in faith, not having received the promises, but having seen them afar off, and were persuaded of them, and embraced them, and confessed that they were strangers and pilgrims on the earth. For they that say such things declare plainly that they seek a country." (Hebrews 11:13-14) More...
A Provoked Spirit
"They angered him also at the waters of strife, so that it went ill with Moses for their sakes: Because they provoked his spirit, so that he spake unadvisedly with his lips." (Psalm 106:32-33) More...
More Articles