His Master's Crib
by Henry M. Morris, Ph.D. | Aug. 29, 2015
"The ox knoweth his owner, and the ass his master's crib: but Israel doth not know, my people doth not consider." (Isaiah 1:3)
What an indictment this is—not only against the people of Israel, but against men and women everywhere. All were created and made in the image of God (Genesis 1:26-27) for fellowship with Him, but even His own chosen people rejected Him, and most people everywhere all but ignore Him in their daily lives.
"Crib" is the same as "manger," and when God became man, His human parents "laid him in a manger" (Luke 2:7), as there was no room for Him anywhere else. The animals knew Him, and so did the angels, but His people were unconcerned. "He was in the world, and the world was made by him, and the world knew him not" (John 1:10).
When He came into Jerusalem offering Himself as King of Israel, He rode on an unbroken colt, "whereon yet never man sat," and the little "foal of an ass" (Luke 19:30; Zechariah 9:9) willingly submitted, knowing his divine Master and Maker. But the people of Jerusalem as a whole joined in clamoring for His crucifixion just a few days later.
The indictment against Israel could be lodged with even greater justification against America today. "Hear, O heavens, and give ear, O earth: . . . I have nourished and brought up children, and they have rebelled against me" (Isaiah 1:2). The morals of our people seem to have been turned upside down, and God would say to us also: "Woe unto them that call evil good, and good evil; that put darkness for light, and light for darkness" (Isaiah 5:20).
Yet—in modern America, as well as in ancient Israel—"as many as received him, to them gave he power to become the sons of God, even to them that believe on his name" (John 1:12). HMM
How the Earth Is Filled
"For the earth shall be filled with the knowledge of the glory of the LORD, as the waters cover the sea." (Habakkuk 2:14) More...
Sea Serpent on Danish Ship Prow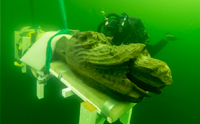 On August 11, researchers from Södertörn University in Sweden raised an ancient 660-pound ship's prow from the floor of the Baltic Sea. The 11-foot-long beam features an exquisite dragon carving. Discovery News wrote that Marcus Sandekjer, head of the nearby Blekinge Museum which aided the extraction "believes it looks like a monstrous dog." It fits in well with other sea-serpent artwork in history. More...
Faith
"And he believed in the LORD; and he counted it to him for righteousness." (Genesis 15:6) More...
King at the Flood
"The LORD sitteth upon the flood; yea, the LORD sitteth King for ever. The LORD will give strength unto his people; the LORD will bless his people with peace." (Psalm 29:10-11) More...
More Articles