Historical Accuracy
by Henry M. Morris III, D.Min. | Aug. 28, 2016
"God that made the world and all things therein . . . hath made of one blood all nations of men for to dwell on all the face of the earth, and hath determined the times before appointed, and the bounds of their habitation." (Acts 17:24, 26)
The biblical record is full of testable historical and archaeological data, unlike the sacred texts of other religions. Wherever such historical information is cited, the data have proven to be precise and trustworthy. It has been subjected to the minutest scientific textual analysis possible to humanity and has been proven to be authentic in every way.
The Bible has been a significant source book for secular archaeology, helping to identify such ancient figures as Sargon (Isaiah 20:1), Sennacherib (Isaiah 37:37), Horam of Gezer (Joshua 10:33), Hazar (Joshua 15:27), and the nation of the Hittites (Genesis 15:20). The biblical record, unlike other "scriptures," is historically set, opening itself up for testing and verification. Nineteenth-century critics used to deny the historicity of the Hittites, the Horites, the Edomites, and various other peoples, nations, and cities mentioned in the Bible. Few critics question the geographical and ethnological reliability of the Bible today.
The names of over 40 kings of various countries mentioned in the Bible have all been found in contemporary documents and inscriptions outside of the Old Testament, and are consistent with the times and places associated with them in the Bible. Nothing exists in ancient literature that has been even remotely as well confirmed in historical accuracy as has the Bible.
"Every word of God is pure. . . . Add thou not unto his words, lest he reprove thee, and thou be found a liar" (Proverbs 30:5-6). HMM III
Adapted from Unlocking the Mysteries of Genesis by Dr. Henry Morris III.
The Unique Earth
"The heaven, even the heavens, are the LORD's: but the earth hath he given to the children of men." (Psalm 115:16)
More...
Our Rock: The Creator
"Of the Rock that begat thee thou art unmindful, and hast forgotten God that formed thee." (Deuteronomy 32:18)
More...
The Case of the Missing Fulgurites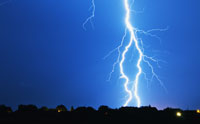 Fulgurites are fossilized lightning strikes. Physicist Don DeYoung wrote that after 4.6 billion years, at the current lightning-strike rate, every square meter of land should contain far more fossilized lightning strikes than it can even hold. New fulgurite research updates the numbers to bring this fulgurite problem into sharper focus.
More...
Preaching the Resurrection
"And with great power gave the apostles witness of the resurrection of the Lord Jesus: and great grace was upon them all." (Acts 4:33)
More...
More Articles