Evidence of God's Blessing
by Henry M. Morris IV | Jun. 30, 2016
The Lord has been good to the Institute for Creation Research. Over the last four and a half decades, God graciously increased the scope and influence of our ministry to truly global proportions. We experienced great joys along the way, as well as seasons of difficulty and serious need. But through it all, God's guiding hand marvelously provided for our needs as we stood firm in the defense of His truth (Philippians 4:19).
From a business standpoint, this is remarkable for a research organization whose primary product is information. So, why is ICR still growing and thriving well into its third generation? Apart from God's direct blessing, I believe the answer is best seen in the comments from fellow believers whose lives have been impacted by our work. The testimonies that follow are characteristic of the many encouraging notes we receive each week.
Resources
"I receive your That's a Fact updates via email and always pass them on to others. What a powerful series of short and entertaining videos! We appreciate ICR so much!"
"ICR's Days of Praise devotionals are both inspiring and instructional, and I delight in forwarding your emails to some on my list."
"Words cannot express how much Acts & Facts has meant to our spiritual growth."
"Your material has been invaluable in my teaching and preaching ministry."
Encouragement
"The ICR ministry has increased my faith more than any other work."
"As a biological scientist, I had an overwhelming conflict with evolutionary 'law' as taught in our universities. ICR has resolved this conflict, praise God."
"God owns the cattle on a thousand hills, and He owns science as well. I thank God for ICR, showing a skeptical world that His perfect Word is true."
"Thank you for all your labor—it is not lost. Keep your hand on the plow and your eye on the finish line. The future generation is right behind you!"
Financial support
"We are sending this money to go towards your new Discovery Center. We are so excited and support you whole-heartedly!"
"It has been a joy to support ICR virtually since its inception. You have been a great blessing to us, and we look forward to every month's mailing."
"ICR made such a big difference in our lives since we attended a seminar in the '80s. How thankful we are for the ministry of ICR! We give to you as often as we can."
"Other than the Church, I know of no other ministry on Earth that is more worthy of support. It is an absolute joy to labor alongside you. God bless ICR!"
Salvation
"I came to Christ and matured in my faith because of ICR's material—what a powerful witnessing tool! I've been an ICR follower and supporter ever since."
"The Genesis Flood was instrumental in leading me to Christ."
"I was a hard-core skeptic until I heard ICR. One year later I was born again!"
And one of my all-time favorites: "I was a trained evolutionist, and I went to hear Dr. Morris fall on his face. He didn't—instead, I fell to my knees."
These testimonies represent only a tiny sample of those we've received over the years and demonstrate, much more effectively than I ever could, the evidence of God's great blessing on our ministry. I hope these will encourage our supporters (and inspire new ones!) to continue their faithful prayer and financial support of ICR to reach future generations with the truth of our Creator, the Lord Jesus Christ.
* Mr. Morris is Director of Donor Relations at the Institute for Creation Research.
Created for Earth, Living in Space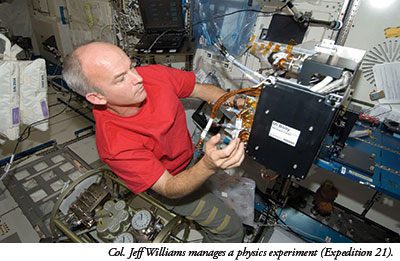 The human body is unique among the living creatures of Earth. It gives us unparalleled abilities to think and invent, and also allows us to perform amazing athletic feats—like climbing Mount Everest or swimming the English Channel.More...
Balancing Church and State

When an American astronaut quotes Psalm 24 and is faulted for violating the so-called separation of church and state, it's time to learn about balance.1 Just as mountain goats need a body designed for balance, we also need deliberate balance in the political arena, where Christians are routinely told to shut up to avoid offending non-Christians.
More...
Why Did Neanderthals Look Different From Us?

When people think of Neanderthals, an evolutionary image of primitive cave men might come to mind. This is bolstered by the perception that they looked very different from modern humans. However, Neanderthals bore four key features that assure us they were human and confirm the Genesis account of humanity's recent origin.
More...
Major Evolutionary Blunders: Breaking Dollo's Law

According to the brilliant conception of the immortal Charles Darwin (1809-1882): Evolution—the transformation of organisms—results from the fixation of useful individual variations provoked by the struggle for existence under the influence of natural selection.More...
More Articles