RNA Editing: Biocomplexity Hits a New High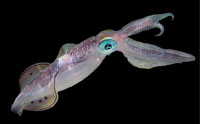 When the workings of the genome were first being discovered, the central evolutionary dogma of molecular biology claimed that genetic information passes consistently from DNA to RNA to proteins. Now we know that RNA messages can be altered by a variety of mechanisms, and a new study in squid genetics has vaulted one of these processes—called RNA editing—to an unprecedented level of biocomplexity. More...
     Recent News
© 1995-2015 Institute for Creation Research. All rights reserved.