Amazing Ant Beetle Same Today as Yesterday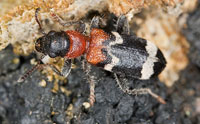 If ancient history according to Scripture is true, then what should we expect to find in animal fossils? Surely excellent body designs would top the list, closely followed by a lack of "transitional forms." A newly discovered specialized beetle inside Indian amber provides another peek into the past and an opportunity to test these Bible-based expectations. More...
Recent News
© 1995-2014 Institute for Creation Research. All rights reserved.