Plants' Built-in Photosynthesis Accelerators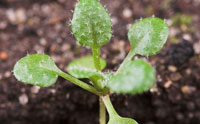 Sunlight can change in a heartbeat. One second, a leaf could be under intense sun and may receive more light than it needs to build sugar molecules through a process called photosynthesis. But a few seconds later, a cloud may wander overhead and block the sun, starving the plant's photosynthetic machinery. A team of plant biologists recently discovered new mechanisms that help plants cope with these fast-changing light conditions. More...
Recent News
© 1995-2014 Institute for Creation Research. All rights reserved.