Remembering Mount St. Helens 35 Years Later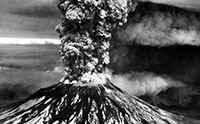 A landslide on the northern side of Mount St. Helens in Washington state on May 18, 1980 uncorked a violent volcanic eruption of ash, vapor, molten material and pulverized rock. The effects of this one of the most scrupulously documented volcanos in history have reshaped the way geologists think about certain landforms. More...
Recent News
© 1995-2015 Institute for Creation Research. All rights reserved.