Bronze-Age DNA Confirms Babel Dispersion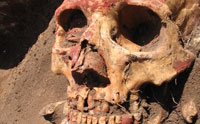 Scientists used new techniques to sequence 101 ancient human genomes believed to be from Bronze-Age populations in Europe. Their findings indicate a massive migratory influx of genetic diversity just a few thousand years ago. This data also coincides with known language diversification patterns, providing strong evidence for the dispersion of people groups at the Tower of Babel. More...
Recent News
© 1995-2015 Institute for Creation Research. All rights reserved.