The Case of the Missing Fulgurites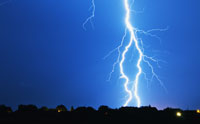 Fulgurites are fossilized lightning strikes. Physicist Don DeYoung wrote that after 4.6 billion years, at the current lightning-strike rate, every square meter of land should contain far more fossilized lightning strikes than it can even hold. New fulgurite research updates the numbers to bring this fulgurite problem into sharper focus.
More...
Recent News
© 1995-2016 Institute for Creation Research. All rights reserved.