The article requested is not found.
Browse through our Archives of articles.
Use our powerful article Search Tools.
On All the Heathen
"For the day of the LORD is near upon all the heathen: as thou hast done, it shall be done unto thee: thy reward shall return upon thine own head." (Obadiah 15) More...
Judging Error
"Now I beseech you, brethren, mark them which cause divisions and offences contrary to the doctrine which ye have learned; and avoid them. For they that are such serve not our Lord Jesus Christ, but their own belly; and by good words and fair speeches deceive the hearts of the simple." (Romans 16:17-18) More...
When We Abide in Christ
More...
Marketing Myostatin Inhibitors with Fake Science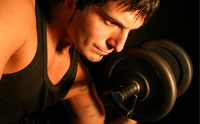 While myostatin inhibitors may be helpful and effective, the evolutionary sales pitch used to promote these supplements is defective and unscientific. More...
More Articles